The offseason has arrived for at least seven teams that were not invited to take part in the play-in round that's slated to begin in early August.  With that in mind, it's time to kick off our Offseason Keys series.  There was one team that wasn't covered in our Stretch Run Storylines series as New Jersey had already been ruled out of returning to play.  Accordingly, let's begin this series with a closer look at the Devils.
After finishing last in the Metropolitan Division in 2018-19, the hope in New Jersey was that they'd start to turn things around.  They added P.K. Subban and Wayne Simmonds to give them a boost and a good finish to that year from Cory Schneider was cause for optimism that he had fully recovered from his lingering injury woes.  That didn't happen.  Schneider struggled as did just about everyone else and as a result, New Jersey finds themselves in the same spot now as they were a year ago – hoping things can only go up from here.  Here's what to watch for them this offseason.
Determine Coach And GM
New Jersey has been taking advantage of this extended time off to do a thorough coaching search.  On the surface, this makes a lot of sense but interim GM Tom Fitzgerald is heading that up while ownership has been interviewing candidates for Fitzgerald's role.  Normally, it would make sense to have a permanent GM in place before deciding on the coach but it seems like the opposite may happen here which suggests that even if Fitzgerald isn't the GM when all is said and done, he'll still have a prominent front role in the front office.
That certainly wouldn't be a bad idea on their part.  He has certainly worked his way up the ranks slowly but surely and has been an assistant GM since 2009 so he has paid his dues.  On top of that, he has navigated the trade market well, garnering an impressive return for Blake Coleman (essentially two first-round picks) that few saw coming.
As for their coaching situation, they are down to five candidates including interim bench boss Alain Nasreddine who the team performed reasonably well in front of (19-16-8) after he took over compared to their start to the season.  Veterans Gerard Gallant, Peter Laviolette, Lindy Ruff, and John Stevens are believed to be the others in the mix.
They have plenty of time as we're still basically three months away from free agency so this isn't a situation that needs to be rushed.  They're effectively the only team with a vacancy although, at the end of the day, it's quite possible that there winds up being no vacancy at all if the team decides to stick with their current options in the end.
Palmieri Resolution
Since joining New Jersey, winger Kyle Palmieri has blossomed into an underrated consistent scoring threat, tallying at least 24 goals in each of his five seasons with the team.  The Devils have been benefitting from one of the more under the radar bargains over that time as he has carried a $4.65MM AAV over the past four seasons and will for 2020-21 as well whenever it gets up and running.  However, next season will be the final year of his contract and he'll be slated for unrestricted free agency after that.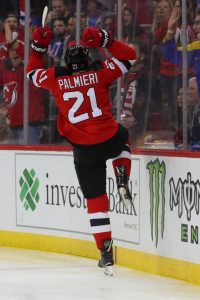 It usually takes until players are officially in the final league year of their contracts to be able to sign an extension.  Normally, by now, we're in that situation but that has changed due to the pandemic.  However, instead of making those players wait until November (the projected start of the 2020-21 league year), players like Palmieri will be in a position where they can officially sign an extension as early as next week.  Accordingly, contract talks should soon be on the horizon.
The Devils shouldn't put themselves into a position where Palmieri's fate is unknown heading into next season.  Barring a seismic turnaround of fortunes, they seem likely to be outside the playoff picture again next season which presents a potential trade as a rental situation.  However, the tightening salary cap picture is going to make it even more difficult than usual to move money in-season.  Normally, Palmieri would garner a significant return as a rental player but so many teams are going to be cap-strapped next year to the point where attempting to go that way will be risky.  Plan A from New Jersey's standpoint should be an extension.  If they can't agree on one in the coming months though, Plan B – a trade – should get early consideration as well.
Utilize Cap Space
The salary cap first came to the NHL back in 2005.  Since then, there has been an annually-increasing usage of the phrase 'cap space is a weapon' or something similar to that.  Prepare to see it a lot more over the coming months as more teams than ever will be in situations where they need to clear out money in a hurry.  For teams that have cap room and are willing to spend it, they'll be in great shape.
It just so happens that New Jersey has cap space.  Plenty of it.  They've also shown a willingness to try to spend in past years but haven't had a lot of success trying to lure players on the open market.  The stretch between mid-October and the beginning of November presents them with a terrific opportunity to leverage that room to add some players that can help now and add assets for down the road.
Just how much space do the Devils have?  They have just over $55MM in commitments for next season, per CapFriendly with 13 players signed.  There are no prominent players in need of a new deal – RFA defenseman Mirco Mueller has the biggest qualifying offer at just $1.4MM while goalie Mackenzie Blackwood is arguably the most notable.  That leaves them some space to add some impact players.
Even if the trade market falls short, they should have more success in free agency this time around as the big-money deals are going to be few and far between beyond the top players at each position.  A one-year pillow contract similar to the one that Simmonds signed last summer is something that more players may be considering this time around.  Fortunately for New Jersey, if that's what it comes to, they're in the best position to hand them out and whoever is the one signing the deals – Fitzgerald or someone else – will be poised to benefit.
Photo courtesy of USA Today Sports Images.