The offseason has arrived for at least seven teams that were not invited to take part in the Qualifying Round that's slated to begin in early August.  With that in mind, our Offseason Keys series is underway for the teams that are on the outside looking in.  Next up is a look at Los Angeles.
Things didn't go well for the Kings in 2018-19 so they made another coaching change before the start of this past season as they brought in veteran Todd McLellan to try to steer them in the right direction.  It didn't happen.  While they managed to avoid finishing last (by a single point), they still had significant scoring problems and there are plenty of areas to try to improve on this offseason.  Here is an overview of what GM Rob Blake should be looking to accomplish.
Add Scoring Help
Given that they finished 30th in the league in scoring for the second straight season, this seems like a good place to start.  Los Angeles was hoping for their high-priced veterans to carry the load but it didn't happen.  Anze Kopitar barely broke 20 goals, Dustin Brown's output dipped for the second straight season following his career year in 2017-18, and Jeff Carter has tailed off considerably in recent years.  Ilya Kovalchuk was supposed to help in that regard but he didn't even make it to midseason before his contract was terminated outright, leaving a $6.25MM dead cap charge on the books for next year.  Tyler Toffoli had a bit of a rebound season before being traded to Vancouver near the trade deadline.
Of their full-timers, their lone pleasant surprise up front was Alex Iafallo who built off of his sophomore campaign to post career numbers.  However, he also averaged nearly 19 minutes a night but in a perfect world, he's more of a secondary option over a top liner.  His playing time was a microcosm of their situation up from though – there just weren't really any other options for that spot.
That's something that needs to change.  Yes, there are some promising prospects in the system and they'll wind up with another one with the number two pick in October's draft but none of their youngsters are ready for top six duty right away.  By the time they are, Kopitar will need a lighter workload.  Accordingly, they need to add a player or two that's capable of helping out not only in the short term but a few years down the road as well.  Whether that comes via free agency or trade, that's something Blake should be looking to bring in, even if he feels they're not quite ready to push for a playoff spot right away.
Rebuild The Back End
It was only the 2017-18 season when the Kings were the stingiest team in hockey.  The goaltending was sharp and it had the benefit of playing in front of a deep defensive corps.  Today, only one player from their top four that season remains and that's Drew Doughty.  Meanwhile, Jake Muzzin, Alec Martinez, and Derek Forbort have all been moved in trades for prospects and draft picks.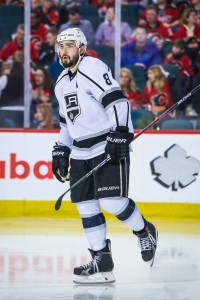 Not surprisingly, the defense corps that finished the season isn't the most recognizable.  Joakim Ryan, Sean Walker, Matt Roy, Ben Hutton, and Kurtis MacDermid were the other blueliners to play at least 10 games for Los Angeles this year and while they all have shown enough to warrant a spot on other back ends around the league, they're all suited for roles that are lower on the depth chart, not one that sees one of them partnering with Doughty on the top pairing.
The good news is that there is some help in the system – Tobias Bjornfot, Kale Clague, and Michael Anderson have all shown some promise in their limited NHL action this season.  Eventually, the Kings should get some help from that group.  The bad news is that they're still a little while away from being NHL-ready.  There is a distinct need to add a capable veteran (if not more than one) to allow the youngsters to avoid being thrown to the wolves and to help stabilize the back end.  The emphasis should be adding someone on the left side, in particular.  Rebuilding or not, that's still a need that should be filled.
Utilize Cap Room
Even with Kovalchuk's dead money on the books, the Kings have a fair bit of money to work with as they sit nearly $21MM under next year's cap with 16 players already under contracts.  There are no major players in need of a new contract so Los Angeles has some cap space to use.  Of course, they have several notable holes to fill with that money.
The cap space should have them in the mix for players like Taylor Hall, Alex Pietrangelo, or Torey Krug if they make it to the open market although with many teams likely looking to shed payroll over the coming months, Blake could opt to try to go that route as well.  Adding more quality prospects and draft picks is never a bad thing for a rebuilding team while the veterans they bring in would likely still represent an upgrade.  Better still, any player brought in via that route would basically be a bridge player to allow some of their prospects to stay in the minors and develop a little while longer (assuming there is hockey at the lower levels next season).
Cap space is going to be more valuable than ever this offseason (and likely for a year or two beyond as well).  Los Angeles has plenty of it which puts them in a good spot to take advantage of the more restricted market.  With several holes to fill on their roster, the timing couldn't be much better.
Photo courtesy of USA Today Sports Images.