Though the Seattle Kraken have stolen the news of the day in the NHL, there are still 24 teams preparing for the upcoming 2020 playoffs and trying to navigate their way through a pandemic. Two players among those 24 teams have admitted to testing positive for COVID-19, though both have now re-joined the club.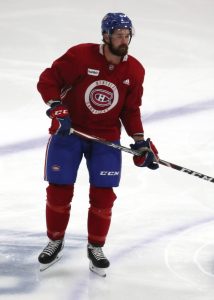 Xavier Ouellet of the Montreal Canadiens confirmed to reporters today including John Lu of TSN that he tested positive, though his diagnosis came with plenty of confusion. Ouellet first tested negative when he arrived at training camp, before then testing positive and going into quarantine. He never experienced any symptoms and then subsequently tested negative multiple times to be allowed to re-join the group. The defenseman isn't even sure if he ever actually had the virus, though did confirm to Lu that a blood test confirmed antibodies.
Winnipeg Jets defenseman Anthony Bitetto meanwhile tested positive on June 24, according to team reporter Mitchell Clinton. He apparently quarantined himself for 29 days and told Clinton he "was pretty lucky to not have to deal with the more serious symptoms." Bitetto returned to practice today for the first time.
The two players join a small group that has admitted to testing positive. Otherwise, the NHL is not releasing information on individual players.
Photo courtesy of USA Today Sports Images