As things stand, the NHL is planning to have games resume at some point over the coming weeks.  Assuming the regular season continues (something the league remains hopeful of doing), there will be plenty of things to watch for over the stretch run.  Over the weeks ahead, PHR will examine the top stretch run storylines for each team.  We continue our look at the Pacific Division with Calgary.
The Flames have had a bit of a tumultuous season.  After winning the division last year, Bill Peters was let go early in the season for prior incidents that came to light.  Their top five scorers from 2018-19 are all producing at a lower clip this season.  They're allowing more goals than a year ago while scoring less per game.  But despite that, they're still sitting in a playoff spot and are within striking distance for second in the Pacific.  Here's what to watch for from them down the stretch.
Scoring Races
Despite underachieving considerably compared to last year, Matthew Tkachuk (61 points) and Johnny Gaudreau (58) are in a tight battle for the team lead in scoring.  Both were starting to heat up before the break as well with Gaudreau averaging a point per game over his last 16 contests while Tkachuk had 19 points in that same span.  Neither will come close to their mark from a year ago but it should make for an interesting scoring race over the final few weeks.
There is another scoring race to watch for in Calgary between a current winger in Milan Lucic and their former winger in James Neal.  As part of the offseason trade, a 2020 third-round pick from the Oilers to the Flames was put in it with some rather unique conditions.  For the pick to transfer, Neal has to score at least 21 goals this season and have 10 more tallies than Lucic.
Let's look at where things stand now.  Neal is at 19 goals so he's two shy of getting the first half.  Meanwhile, Lucic has rebounded slightly from his goal total a year ago but he only sits at eight.  If Neal picks up a couple over their final stretch, Calgary should net themselves the pick unless Lucic comes back and gets on a hot streak right away.
Rebound From Rittich?
Expectations were high for David Rittich heading into the year.  The goaltender was coming off of a strong 2018-19 campaign and was expected to push for even more playing time this season.  He got off to a strong start as well, posting a .915 save percentage across his first 35 appearances.  That was a little better than a year ago (.911) and it helped him make it to his first All-Star Game when he took the place of Arizona's Darcy Kuemper.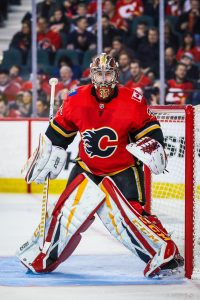 Things haven't gone as well since then.  In his last 13 games, his save percentage plummeted all the way down to .883.  In other words, from about NHL average to below-average backup territory.  That's not the biggest of sample sizes but his struggles and a nagging elbow issue paved the way for Cam Talbot to play more regularly before the pause in the schedule.
Can Rittich rebound after the break or will Talbot, who took a one-year deal last summer to take another run at landing a starting job this coming offseason, continue to cut into his playing time?  This is a potential dual-goalie situation which would be ideal for a compressed stretch run but come playoff time, they'll likely want to stick with one netminder over a platoon.
Valimaki Ready?
Juuso Valimaki didn't look out of place in Calgary last season.  The blueliner made the team and held his own early before being sent to the minors.  However, he was recalled late in the year and even saw some playoff action.  That had him in line to push for a regular spot on the back end until he tore his ACL in early September.  He wasn't expected to play this season but the break in the schedule has made that a legitimate possibility now.
From a short-term standpoint, adding another defenseman would be ideal for a stretch run that will likely be compressed if it gets off the ground.  It'd also certainly be beneficial from a development perspective.
But there is another consideration at play.  If Valimaki plays in a single game in 2019-20, he would become eligible for selection in next summer's Seattle expansion draft.  But if he doesn't, he won't accrue a professional season of service which means he'd fall under the exempt category.  By the way, that applies for any AHL playing time either in the unlikely event that their season resumes.
That presents Calgary with a potentially intriguing decision.  It's hard to justify sitting someone that could help in a late-season or playoff game but are a handful of games from someone who has been off so long enough to justify making him required to be protected.  Worth noting, Mark Giordano, Noah Hanifin, and Rasmus Andersson will all require protection next summer and teams only have three guaranteed protection slots.  It'd be an interesting decision either way.
Photo courtesy of USA Today Sports Images.