With most sports on hold indefinitely due to the ongoing COVID-19 pandemic, it's time for another mailbag.  Topics in this edition include sleeper teams in an extended postseason, the possibility of compliance buyouts, how things are progressing towards an agreement to continue the season, and the recent cancellation of the rest of the AHL campaign.  If your question doesn't appear here, watch for it in next weekend's edition.
acarneglia: Which team currently outside a playoff spot is the biggest threat in a 24-team playoff?
In the East, I'd put the Rangers as a threat.  They're currently in the top five in the league in goals scored and while their goals against number isn't pretty (tied for 23rd), they only allowed more than three goals in four of their last 19 games before the stoppage.  Of course, a big reason for this is Igor Shesterkin who quickly ascended to the number one role upon getting recalled and really gave them the stability between the pipes that they were lacking.  It's a big if given his relative inexperience but if he was to come back and play at that level with New York remaining one of the stronger offensive teams, that could be a pretty good recipe to make some noise.
Out West, the Canucks are only out by virtue of the tiebreaker but of the teams not currently in at the moment, they're the strongest.  They're a strong score-by-committee team and that was even before they added Tyler Toffoli just before the trade deadline.  Vegas showed that a team that doesn't have that elite producer can still do well with a lot of capable scoring depth and Vancouver certainly has that.  Jacob Markstrom has fully recovered from his knee injury and considering he's showcasing himself for a big contract this offseason, he has a lot to play for.  A healthy starter and a deep attack could do some damage in a very tight Pacific Division.
aias: Any ideas on how the buyouts would work? Is this a one-time deal?
The Mistake of Giving Eugene Melnyk a Liver Transplant: How would compliance buyouts impact recapture penalties on the bought-out contracts? Also, would each team be limited to one buyout? If so, would teams be allowed to trade players so another team can buy them out?
vincent k. mcmahon: With the news a few weeks ago about Alex Steen considering retirement and the possibility of comp buyouts, would buying out Steen's and Faulk's contracts make enough room to re-sign Pietrangelo and add someone on the wing to replace Steen?
First off, the talk about compliance buyouts is strictly theoretical at this point.  With the belief that the salary cap will drop or be flattened out for a couple of seasons, some wonder if the league and players will negotiate a brief return of the cap-exempt compliance buyouts as there was following the signing of the last CBA.  But nothing is official yet.
I think it would be a one-time thing and probably limited to one per team.  Not all owners want something like this as it's something that larger-market teams can exploit easier than ones with pockets that aren't as deep.  I wouldn't be surprised if it's a little different than previous versions though because of this particular situation.  An idea I have is that teams that execute the buyout also have to pay an proportional (or equal) amount into a fund that's distributed to teams that don't use one and is subject to HRR calculations.  That would provide a bit of disincentive for teams to use one unless they absolutely have to and it would also feed a bit to the players which might help their signing off on it.  I'd like to see the ability to trade players to be bought out (the trade market is limited enough as it is) but that is something the league has frowned upon in the past.
Salary cap recapture is only limited to the now-illegal back-diving contracts from years ago and a lot of those players aren't in the league anymore.  At a quick glance, there are only seven active players left (excluding those still under contract but effectively retired) that are on one of those contracts and of those, most aren't buyout candidates anyway as they're still core players.  Jeff Carter could be a possibility but his lingering injury would make that tough and the Kings have plenty of cap space as it is so that might take Jonathan Quick off the table as well.  Maybe Zach Parise in Minnesota but I think that trade with the Islanders that fell through at the deadline gets revisited this offseason.  If I had to guess, if Parise was to be bought out under this scenario, the recapture would go away since it would be a cap-exempt buyout; it should, therefore, eliminate all lingering cap commitments.  (Sidney Crosby, Duncan Keith, Ryan Suter, and Shea Weber are the other active players on deals subject to recapture.  Zdeno Chara and Tyler Myers used to be but have since signed a cap-compliant contract.)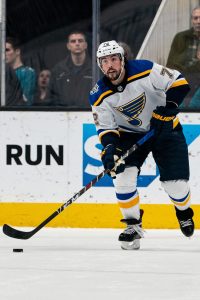 Would St. Louis really execute a compliance buyout on Justin Faulk?  While the cap hit may not exist in that instance, they'd still be paying him more than $30MM in actual money over 14 years before he played a single game on an extension they gave him.  Factoring in what they gave up to get him from Carolina and that is a huge price to pay to keep Alex Pietrangelo around on an even pricier deal.  Is Pietrangelo worth effectively $100MM when you factor in Faulk's buyout cost plus what an eight-year deal for the captain would be?  Buying out a contract before it even begins would be unprecedented; even the Flyers waited two years before they decided to pay Ilya Bryzgalov for 14 years (through 2026-27) to not play for them.  I don't think that's something St. Louis would want to do.  I think they'd be open to a trade but not a buyout.
Alex Steen is certainly a buyout candidate whether it's a regular one or a compliance one if those are allowed.  In your scenario, compliance buyouts of both would probably allow them to replace Steen with someone making about half of Steen's $5.75MM price tag but it's probably not going to happen.  The likelier scenario is buying Steen out and trying to clear some mid-tier salaries (Jake Allen and Oskar Sundqvist come to mind) for cheap replacements and try to leverage what should be a depressed free agent market into cobbling a way to keep Pietrangelo in the fold.
curtism88: All the talk in the MLB is about how much players will or won't get paid when the season starts. How have talks in the NHL progressed so far and could we see a snag similar to MLB?
It's a much different situation in the NHL and MLB simply because of where they are.  MLB owners want to institute an entirely new economic system for this season that would bring in revenue sharing and salaries (beyond the small amounts they were paid at the end of spring training) would be based off of that.  MLBTR has the details on that one so I won't jump into that here other than to say they have a bit of a mountain to climb based on the early response.  Meanwhile, the NHL is trying to end their season and there is only one payment that players haven't received yet.  Pierre LeBrun of TSN and The Athletic noted on Friday (Twitter link) that an NHLPA vote is being conducted this weekend to potentially defer it further (closer to a resumption of play).
Effectively, MLB is working on a revised schedule and salary structure while the NHL is basically just trying to either wrap up its regular season or jump to the playoffs.  Any potential snag at this point in the NHL would be tied strictly to safety and family concerns while MLB has that to deal with plus the financial situation which at this point is probably the bigger hurdle they're trying to jump over.
By all accounts, talks between the NHL and NHLPA in that regard have gone relatively well.  They're not at the point of a concrete proposal yet (whereas MLB owners have a formal proposal in place) but there hasn't been a lot of public posturing on either side.  Not every player is going to want to return but I think enough either do or understand the ramifications of not returning are less than ideal that there shouldn't be a ton of resistance.  A lot depends on the various jurisdictions in terms of allowable public gatherings which could impact how conditioning camps are held.  The 14-day self-quarantine window in Canada after travelling will also play a role.  Work visas typically run until June 30 so some work needs to be done there as well.  If play doesn't resume, I suspect it will be due to virus-related issues more than the league and Players' Association not finding common ground on a proposal to resume play.
ldoggnation: The AHL called the season over. Is that a precursor to the NHL doing the same? And (unfortunately) if so, when would the NHL call it?
Winter in Colorado: The AHL has cancelled its season. All the pundits say that league is dependent on ticket sales for revenue. Not all AHL teams are owned by their parent NHL club. With the possibility of no fans in attendance next year, is the AHL truly in trouble?
To be honest, I'm surprised it took the AHL as long as it did to make the obvious call official.  There was no way that they'd be able to resume games anytime soon and from an economic standpoint, they don't have the TV and sponsorship deals that would allow them to at least mitigate some of the losses from not having ticket sales that the NHL does.  I wouldn't attribute that as a precursor to the NHL considering the same though.  I believe Gary Bettman when he said he has no intention of calling the season.  With a willingness to delay the start of 2020-21 into December and play into the summer if needed, they can wait this out for a while yet.
With nearly two-thirds of AHL teams being owned by NHL franchises, I don't think the league as a whole is in any sort of long-term jeopardy.  NHL teams need minor league affiliates and they will do their best to ensure the stability of that league.  I wouldn't be shocked if there are less than 31 teams next season, however, as independently-owned franchises may not have the same desire to open up with no fans (or a sizable restriction on them).
It's one thing to wipe out the end of a season due to no fans being able to attend but the NHL teams that own AHL franchises aren't going to be as willing to throw away an entire year of development; fans or not, they're going to want to run at least some sort of schedule next season.  I could see some of the independent teams suspending operations for a year, forcing their parent team to try to team up with others in that situation or find a few teams to loan a handful of players each to.  That was quite common not that long ago so in the short-term that should work again.  There will be some pain for next season in the AHL but the league as a whole should remain on solid footing assuming things eventually get back to 'normal'.
Photo courtesy of USA Today Sports Images.