As things stand, the NHL is planning to have games resume at some point over the coming weeks.  Assuming the regular season continues, there will be plenty of things to watch for over the stretch run.  Over the coming weeks, PHR will examine the top stretch run storylines for each team.  We continue our look at the Atlantic Division with Montreal.
After narrowly missing out of the playoffs a year ago, the Canadiens chose to bring back virtually the same roster in 2019-20 and the results haven't been as good.  As this point, their only playoff chances are if the NHL opts to go with an expanded field over resuming the regular season.  Nevertheless, there are a few players in particular to watch for if games resumed and they headline Montreal's stretch run storylines.
Lindgren's Time?
The Canadiens have been seeking a legitimate backup goaltender behind Carey Price for a long time now.  In recent years, they've used Al Montoya, Antti Niemi, and Keith Kinkaid with the results largely being underwhelming.  Throughout that time, they've had Charlie Lindgren in the fold but other than as an injury recall, he has rarely had the opportunity to establish himself as someone that could legitimately serve as the number two option over a full season.
Just prior to the shutdown, Lindgren had played in a couple of games and it looked as if he was going to have a chance at regular playing time over the final month of the season.  If play resumes, he should get that opportunity.
From his perspective, at 26, he's nearing the point of being labelled a career third stringer if he doesn't prove himself in the NHL soon.  From Montreal's point of view, they need to see if he can be counted on for next season.  If not, they'll be among the teams going after someone in free agency and with Seattle's expansion draft on the horizon, they may have to commit a two-year deal to whoever they get which would be a big blow to Lindgren's NHL aspirations.  If the NHL returns to regular season play, how he fares in his remaining games (as limited a sample as it may be) could very well determine his future with the team and potentially around the league.
Domi's Next Deal
Max Domi's first year with the Canadiens was impressive.  He blew past his career highs with 28 goals and 44 assists while adapting to play center on a full-time basis.  Heading into 2019-20, both Domi and Montreal were hoping for a repeat performance, one that would have solidified a long-term contract as a restricted free agent in the summer.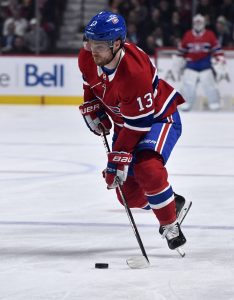 But that hasn't happened.  Instead, it has been a roller coaster year and the numbers haven't been anywhere near as good.  He set a franchise record with a six-game road goal streak but he only has 11 other goals outside of that stretch.  His assist total (27) is comparable to that of his time with the Coyotes which, while not terrible, is not long-term contract material either.  The team has experimented with moving him back to the wing to try to get him going and when that didn't work, they moved him back down the middle but dropped him to the third line.
That's not the type of platform year he was hoping for.  All of a sudden, a shorter-term deal is looking more realistic but a strong stretch run could certainly bolster his leverage as Domi is eligible for arbitration.  It was only a year ago that Domi looked like a core player in Montreal but that could be changing.
Which Version Of Drouin?
One of GM Marc Bergevin's reasons for keeping the team largely intact from last year was the hopes that some of his younger players would show signs of improvement.  Number one on that list was Jonathan Drouin.  While he's in his sixth year in the league, he only turned 25 last week and after a disappointing season, it was understandable to think he might yet have another gear.
In the early going of 2019-20, he looked like he was indeed taking that next step as he collected 15 points in the first 17 games of the season.  But things went downhill from there.  He was injured about a week after that hot stretch and the ensuing wrist surgery kept him out for the better part of three months.  After returning to action, a lingering ankle issue hampered him considerably and he was held off the scoresheet before being taken out of the lineup in late February.
The first version of Drouin from this season was a core player while the other version is a player that a team would have to provide extra incentive to take on.  Now that the ankle issue has healed, the Canadiens would certainly like to see if Drouin can get back to his early season form if games resume.  If things don't go well, it's a hole in their lineup that they may have to add to their offseason shopping list to try to improve upon.
Photo courtesy of USA Today Sports Images.