As things stand, the NHL is planning to have games resume at some point over the coming weeks.  Assuming the regular season continues, there will be plenty of things to watch for over the stretch run.  Over the coming weeks, PHR will examine the top stretch run storylines for each team.  We continue our look at the Atlantic Division with Florida.
Optimism was high for the Panthers heading into this season.  Bolstered with a high-priced new starting goalie and a well-respected head coach (not to mention some other smaller upgrades), they were hoping to be in contention this season.  Instead, they're presently on the outside looking in at the playoffs but are close enough to get in if regular season play resumes.  Their positioning in the standings is just one of the elements to watch for down the stretch.
Who Stays, Who Goes?
With a little over $60MM in commitments for next season, the Panthers have some wiggle room to work with this offseason although with only 13 players counting towards that total, they have a lot of spots before they can fill out their roster.  Heading into the season, it was looking like Florida would only be able to retain one of their two notable pending unrestricted free agents on the wing in Evgenii Dadonov and Mike Hoffman.  Trading Vincent Trocheck was supposed to help their chances but the potential for a flattened or lower salary cap now largely offsets that.  Accordingly, they may not be able to keep both of them after all even with Trocheck off the books.
After putting up 70 points apiece last season, Hoffman was producing at a nearly identical rate this year while Dadonov's numbers dipped a little bit as he was on pace for less than 60 points, a mark he reached in both of his seasons with the Panthers.
Hoffman is about seven months younger than Dadonov and both will be expected to command a reasonably long-term deal this summer.  Even in a potentially deflated market, a five-year or six-year term may be doable.  As things stand, both should be looking at raises on their current price tags ($5.1875MM for Hoffman, $4MM for Dadonov).  If they can only afford to keep one of them, how they fare down the stretch and potentially in the postseason could go a long way towards determining which one stays with Florida.
Bobrovsky's Struggles
In recent years, one of the themes around Florida was 'if they only had even average goaltending'.  That position had been their Achilles' heel but Sergei Bobrovsky was supposed to change that.  The Panthers demonstrated how confident they were with him being the long-term solution when they signed him to a seven-year, $70MM contract.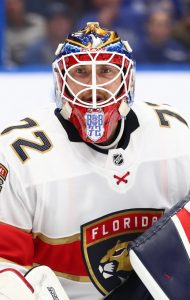 Let's just say that they haven't been rewarded on that investment yet.  The veteran has a .900 SV% on the season, his lowest since his sophomore campaign in Philadelphia when he posted a .899 mark in 28 games.  His GAA of 3.23 is the worst of his career by nearly a quarter of a goal per game.  These are numbers that are expected of a journeyman backup, not the second-highest-paid goalie in NHL history.  Instead, they're getting basically the same results as last year, just at a higher price tag.
But some cause for optimism here isn't unfounded.  Bobrovsky has gone on hot stretches in the past and carried a team on his shoulders and with the firepower Florida has, they don't even need him to do that.  If he plays even close to a level of an average goaltender, that could very well be enough to get them over the hump.  He will certainly be one to keep an eye on if games resume.
Standings Watch
There are a handful of teams that will be unhappy if the NHL jumps immediately to the playoffs without expanding the format and Florida is certainly among those.  Earlier this week, captain Aleksander Barkov told George Richards of The Athletic (subscription required) that he doesn't "think it would be right if we're left out".
That point of view is understandable as the Panthers are within striking distance of both a Wild Card spot and the third seed in the Atlantic Division; they're within three points of each.  On top of that, they have a game in hand on Columbus and Toronto, the teams they're chasing for those two positions.  They also have a game against the Maple Leafs that could very well make or break their fortunes.  Florida controls their own destiny if they get the opportunity to play out the rest of the regular season or at least part of it.  They're likely to be the team that's right in it until the end, assuming the end hasn't hit already.
Photo courtesy of USA Today Sports Images.