As things stand, the NHL is planning to have games resume at some point over the coming weeks.  Assuming the regular season continues, there will be plenty of things to watch for over the stretch run.  Over the weeks ahead, PHR will examine the top stretch run storylines for each team.  We wrap up our look at the Atlantic Division with Detroit.
After a tough 2018-19 campaign, expectations were low for the Red Wings heading into this season.  New GM Steve Yzerman was committed to keeping the current rebuilding strategy intact and not surprisingly as a result, the team has struggled mightily as they sit dead last in the NHL by a whopping 23 points.  That leaves some big questions ahead, some of which could help be answered if regular season play is able to resume.
Blashill's Future
With this season being a transition year at best, it was understandable that head coach Jeff Blashill was kept around despite a tough 2018-19.  The record is a whole lot worse this season but Yzerman has said he has liked some of what he has seen with regards to player development and compete level.  The latter stands out considering they have been out of playoff contention for the majority of the season.
If the NHL is able to get in the rest of their games, that 11-game stretch would serve as an opportunity for Blashill to make a late push to stick around for another season which would be the final one of his contract.  There would inevitably need to be a mini training camp and how he's able to motivate a team that would be getting put through their paces in the late spring or early summer to play 11 meaningless games may actually have an impact on showing what type of hold he still has on the room.
Bernier's Opportunity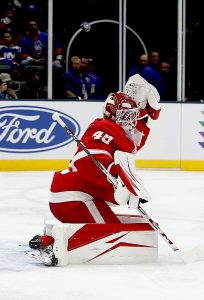 With Jimmy Howard struggling mightily this year (a 2-23-2 record with a 4.20 GAA and a .882 SV%), Jonathan Bernier has had the opportunity to show that he can be the starter.  The end result has been mediocre numbers (15-22-3, 2.95 GAA, .907 SV%) but given the state of the team in general, mediocre isn't that bad.
Bernier isn't playing for a contract as he has one year left on a deal that carries a $3MM price tag.  However, with several notable free agent goalies hitting the market this offseason (including Corey Crawford, Braden Holtby, and Jacob Markstrom as starters and platoon options like Anton Khudobin and Jaroslav Halak), he will certainly be looking to prove that he can be counted in his current role.  The stretch run would afford him one more chance to stake his claim to the number one job for next season.
Youth Movement
With any remaining games having no bearings on the standings (they've clinched 31st overall even if the full schedule has been played), Detroit should be using any remaining games as an opportunity to give some of their prospects some extra playing time.  Filip Zadina was close to returning before the shutdown and should be in line for a prime role.  Longer looks at players like Gustav Lindstrom, Taro Hirose and Dmytro Timashov would also be beneficial to see if they can be counted on in a regular role for 2020-21.  Michael Rasmussen has yet to play with Detroit this season after playing 62 games for them a year ago while Evgeny Svechnikov, a first-round pick in 2015, has played just four times.  NHL action for them would certainly be ideal.
But beyond them, there are other prospects that would certainly benefit from some late action.  The initial plan before the postponement of games was that Moritz Seider would get an opportunity to play.  He'd be capped at nine games but even that many would be a good introduction before trying to compete for a spot in training camp a few months later.  Joe Veleno wasn't in the plans to bring up as the Red Wings wanted to keep him in the minors where he was starting to play better.  But with this stoppage, any momentum from that has passed so it may be time for him to get a chance as well.
The longer this stoppage goes on, the likelihood of AHL games resuming gets lower.  There are no post-deadline roster restrictions as long as teams stay under the salary cap and Detroit is in good shape in that regard; they have room to bring up some more players while remaining in compliance.  Forget just the mini conditioning camp to get back into shape, any remaining games are basically opportunities for an extended training camp for 2020-21.  Accordingly, they need to feature a lot of Detroit's up and coming talent.
Photo courtesy of USA Today Sports Images.