Some teams have been taking advantage of this pause in the schedule to talk about new contracts for their pending free agents.  The Islanders aren't doing that with their top pending restricted in Mathew Barzal.  The center told reporters, including NHL.com's Brian Compton, that there hasn't been any talks about a new deal yet:
To be honest with you guys, I don't think there's been too much communication, and not because there's anything negative or anything, it's just Lou's getting ready for a playoff run right now, and I'm still worried about this season as well.  I'm not too too worried about it, just because I don't think the season is over yet. I think we're still going to be playing.

There's bigger things we've got to worry about right now in terms of heading to the playoffs this year. But at the same time, whenever we're ready to sit down and get it done, I'd love for that to happen. At the same time, I'm not a person that's just going to rush this thing or get nervous about it or whatever. I'm just going about my day, and it'll happen when it happens.
While the 22-year-old hasn't been able to get back to the numbers of his rookie season that saw him pick up 85 points in 82 games to earn him the Calder Trophy, he did reach the 60-point mark before the games stopped, the third straight year he has hit that mark.  He's also their leading scorer for the third straight year which is quite impressive for someone that's in his third full NHL season.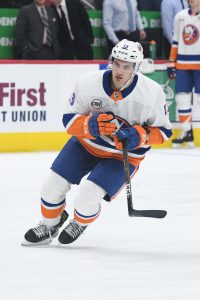 It's that production that has made him one of the top restricted free agents this summer as he's in line to get a substantial raise on his current $925K salary regardless of what happens with the salary cap as a result of the COVID-19 pandemic.  While Barzal didn't touch on that in his comments, it's likely that the potential for a lowered or flattened Upper Limit of the cap is playing a role in the lack of discussions right now.
Barzal has been a speculative candidate for an offer sheet all season long but GM Lou Lamoriello tried his best to pour cold water on that last month when he stated that he would match anything that his top forward could sign but until a new deal is agreed on, that will still linger.  In the meantime, it appears the focus is on the resumption of the season if and when that time comes.
Photo courtesy of USA Today Sports Images.