If the NHL ever decides that they are not able to play any more games this season, it will be a wild few months. Very suddenly, players who were in the middle of a Stanley Cup chase will instead become free agents, able to sign with whichever team they choose—or at least whichever is interested in them. Torey Krug is one of the players in that situation. The Boston Bruins defenseman was an integral part of a squad looking to challenge for a league championship but is now in limbo awaiting a decision from the NHL to see if he has played his last game with the team.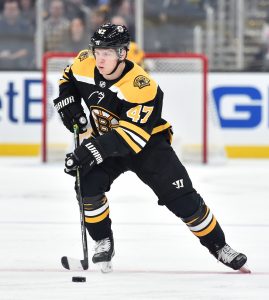 Of course, Boston could re-sign Krug, which is clearly what the defenseman is hoping for. He was on a conference call with reporters including Amalie Benjamin of NHL.com yesterday, and explained the situation:
We haven't had any talks since this thing has started. I can't speak for any other UFA that's in a position like I am, but in terms of my situation here in Boston, we haven't continued any talks or made any progress in that regard.

For me personally, I really hope I did not play my last game as a Boston Bruin. It's been a special place for me and my family to grow and my love for the game and playing in front of these fans, it's been very special to me.
Krug, who will turn 29 on Sunday, was having another outstanding offensive season for the Bruins, scoring 49 points through his first 61 games. The left-handed defenseman has been one of the elite puck-movers in the game for some time now, but took his powerplay production to a whole new level last year and seems to continue to improve in his own end. That package—even if it's not a big one; Krug stands at just 5'9″—would make him one of the most attractive unrestricted free agents on the market this summer and a target for dozens of teams.
The biggest question to this point is will the Bruins even be able to afford him? With the rest of this season still clouded in uncertainty, there's no telling exactly where the hockey-related revenue numbers will come down for this year. That means the 2020-21 salary cap could be drastically affected, something that would impact heavily the Bruins' free agent plans.
Krug isn't the only important player on the Bruins headed for free agency. Jaroslav Halak, who has been arguably the best "backup" goaltender in the league for some time now, is also headed for UFA status. As is Kevan Miller, though it's not clear what his future holds due to injury concerns.
Captain Zdeno Chara is also on an expiring deal, though he is probably willing to work with the Bruins on a reasonable salary should he decide to come back. Chara took a one-year deal last year that guaranteed him just $2MM in base salary, but had up to $1.75MM in performance bonuses.
On the RFA side, Jake Debrusk, Anders Bjork and Matt Grzelcyk lead the way and will all be looking for raises.
Depending on how the Bruins go about it, shelling out $8MM+ per season for Krug may simply not be possible. You can understand why the two sides haven't been locked in negotiations though since there is no way to tell exactly how much money Boston even has to spend.
Photo courtesy of USA Today Sports Images