As things stand, the NHL is planning to have games resume at some point over the coming weeks.  Assuming the regular season continues, there will be plenty of things to watch for over the stretch run.  Over the coming weeks, PHR will examine the top stretch run storylines for each team.  We continue our look at the Central Division with Minnesota.
It has been another disappointing season for the Wild who currently are on the outside looking in at a playoff spot.  New GM Bill Guerin has been aggressive in recent months in terms of shaking things up, moving out Jason Zucker while making a change behind the bench as well.  The effect of that coaching change is among their storylines to watch for down the stretch.
Evason's Future
The decision to part with Bruce Boudreau last month came as a bit of a surprise even though Minnesota was struggling at the time.  It seemed like the likelier time to make a move would have been the summer but Guerin opted not to wait and installed assistant Dean Evason as the new bench boss on an interim basis for the rest of the season.
The early returns have certainly been promising as the Wild are 8-4-0 since the change and as a result, they've crept back into the playoff race and sit only one point outside of the final Wild Card spot in the Western Conference.  Despite the strong start under his tenure, Guerin indicated earlier this month that he wasn't willing to remove the interim tag at this time and will make a decision on Evason's status at the end of the season.
That makes the stretch run (and possible playoff appearance depending on the format) extremely important for the first time NHL head coach.  A good showing would certainly bolster his chances of getting the full-time gig but if they falter, Guerin could go elsewhere.  There's a lot riding on their final few games (assuming they actually occur).
Dubnyk's Struggles
While Devan Dubnyk's save percentage dipped a bit in 2018-19 while his goals against average went up a couple of points, he still seemed like a safe bet to be at least an average starter this season.  That hasn't exactly happened.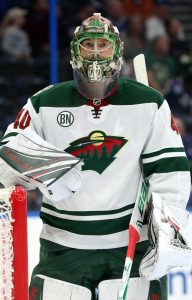 The 33-year-old has posted a save percentage of just .890 this season.  That's his lowest one since his rookie year and the last time he had one around that territory (2013-14 at .891), three different organizations were paying him to be a platoon goalie for Montreal's AHL affiliate.  His goals against average of 3.35 is his worst since that 2013-14 campaign.  Those are not starting-caliber numbers; those aren't even backup level.
That's why Alex Stalock was given a chance to run as the starter and to his credit, he made the most of it in the weeks leading up to the break in the schedule.  But he has been a backup (or third-stringer) for his entire career so asking him to keep up his level of play isn't realistic.
Eventually, they will need Dubnyk to get back to his form from a year ago.  This is where the break should do him some good as some time away certainly can't hurt.  If you look back at how he bounced back from his ugly 2013-14 season, he quickly rediscovered his form with Arizona which helped land him in Minnesota where he had fared well until now.  They'll certainly be counting on a similar bounce back down the stretch.
Galchenyuk's Future
When the Canadiens signed Alex Galchenyuk to a three-year deal three offseasons ago, it set him up to potentially be one of the most sought after forwards in unrestricted free agency.  Here was a top-three pick only a year removed from a 30-goal campaign and he'd be hitting the open market at 26 in the prime of his career.
Things haven't gone quite as planned, however.  Galchenyuk was eventually moved to Arizona where his numbers declined.  He started this season in Pittsburgh and didn't do much there and saw his value plummet to the point where he was effectively a salary matching throw-in as part of the Zucker trade.
Prior to the pause, Galchenyuk was actually showing some signs of improvement.  He had seven points in 14 games, a pace that was comparable to his output from a year before despite averaging a little less than 15 minutes a night.  If he is able to return and sustain that pace, he'll at least position himself to have interest from a few teams on the open market, including potentially Minnesota.  But if he struggles down the stretch (or even if play doesn't resume), he could go from possibly being one of the more intriguing free agents to one that will have to wait a while in the offseason to find his next team.
Photo courtesy of USA Today Sports Images.