As things stand, the NHL is planning to have games resume at some point over the coming weeks.  Assuming the regular season continues, there will be plenty of things to watch for over the stretch run.  Over the coming weeks, PHR will examine the top stretch run storylines for each team.  We continue our look at the Central Division with Colorado.
After making somewhat of a surprise appearance in the second round last season, the Avalanche have built off of that and have become one of the top threats in the Western Conference.  They've managed to do so despite a litany of injuries to key players.  That shouldn't be an issue when play resumes, making it a top storyline for not only them but the rest of the West as well.
Return To Health
Just before the suspension of play, Colorado had just found out that Nathan MacKinnon was going to miss a couple of weeks while Cale Makar had just returned from an upper-body injury issue.  Having them at full strength is nice…and that's only the tip of the iceberg.
Philipp Grubauer will return from his lower-body issue which will bolster their goaltending tandem.  Mikko Rantanen will be ready to go from his upper-body ailment; both players have been out for roughly a month.  Nazem Kadri plays more than any forward not on their top line and will be back from his lower-body injury.  And while we're at it, Matt Calvert and Andre Burakovsky will also be ready to go from their lower-body issues.
If you're keeping track, that's two top line forwards, a second line center, two middle six wingers, and a starting goalie that will all be back.  Calling that a huge upgrade to their roster would be an understatement and positions the Avs quite nicely for a stretch run or quick start to the postseason.
Goaltending Decision
Let's go back to Grubauer.  Prior to his injury, he had become more of the clear cut starter.  But when he went down, Pavel Francouz ran off a 2.40 GAA with a .918 SV% in 13 appearances (one being in relief of Grubauer when he was hurt).  He more than capably held down the fort and earned himself a two-year contract extension in the process.  At the same time, his play also suggested that he is worthy of more playing time.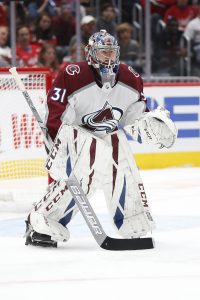 All of a sudden, there isn't a guaranteed number one option anymore.  When it comes to the regular season, there's nothing wrong with that and platoon situations can be quite useful during that time.  More teams have gone with that approach and the results have been largely positive.  So for however many regular season games are played (if any), they're in good shape.
But who's going to lead them in the postseason?  Teams typically pick one and stick with that goalie throughout though Grubauer himself was one of the exceptions a couple of years ago in Washington.  Six weeks ago, it looked like Grubauer was the favorite to start.  But Francouz's performance in his absence suggests he may be worthy of the number one job now.  A return to regular season games could help solve this but if the NHL jumps right into the playoffs, Jared Bednar has quite a decision to make.
Quest For 100
Two years ago, MacKinnon came up just shy of the 100-point mark as he had 97 in 74 games.  Last season, he got even closer; while his point per game average went down, he played in all 82 contests and got to 99 points.  This season, he was well on his way to getting there and likely would have hit that mark even though he'd have missed this week due to injury.  He currently sits at 93 points in 69 games with his 1.35 point per game average being the best of his career.
If regular season play resumes, it's quite possible MacKinnon will get to 100 even if the schedule winds up being truncated by a few games.  If not, he'll take aim at that plateau next season and will instead have to settle for leading the team in scoring by a country mile.  (He currently sits 43 points ahead of Makar who is second in points with 50.)
Photo courtesy of USA Today Sports Images.