With the trade deadline now less than a month away, we will be taking a closer look at the situation for each team over the coming weeks.  Where do they stand, what do they need to do, and what assets do they have to fill those needs?  Next up is a look at the Detroit Red Wings.
If one didn't know any better (and one doesn't), it might look like Steve Yzerman and the Detroit Red Wings are actually trying to lose as many games as possible this season. The club is on pace to record the third worst season in franchise history, only ahead of the 1985-86 and 1976-77 teams that both finished with fewer than 20 wins. Even amid that chaos and defeat, the team has acquired a few young pieces that could be used as building blocks or perhaps trade bait in the coming months.
Record
12-38-4, 8th in the Atlantic Division
Deadline Status
Seller
Deadline Cap Space
$9.49MM in a full-season cap hit (using LTIR), 0/3 used salary cap retention slots, 47/50 contracts per CapFriendly
Upcoming Draft Picks
2020: DET 1st, DET 2nd, WSH 2nd, DET 3rd, SJS 3rd, DET 5th, DET 6th, DET 7th
2021: DET 1st, DET 2nd, DET 3rd, VGK 3rd, DET 4th, DET 5th, DET 6th, DET 7th
Trade Chips
When you're having this kind of disastrous season, it's hard to find a lot of trade bait on the roster. Even players who may otherwise have held some like Mike Green, Luke Glendening and Patrik Nemeth have had brutal years, making it hard to argue they would be an upgrade for a contender even as depth options.
The Red Wings do have some interesting names to keep an eye on though, and they may not be who you expect. Because the team is at the very beginning of a rebuild and will need several years of growth before they are considered playoff contenders, players entering their mid-twenties with expiring contracts may become trade bait. Adam Erne, Taro Hirose, Robby Fabbri, Brendan Perlini and Madison Bowey are all scheduled to become restricted free agents this summer and have held relatively high levels of potential in the past. Perhaps Yzerman can cash in one of these names for a draft pick or two, given it seems unlikely that they're all back in similar roles next season.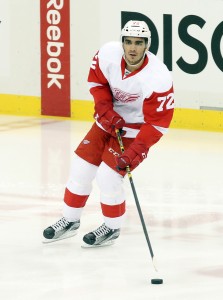 There are a trio of other names that obviously draw the eye when looking at the Detroit roster however. Anthony Mantha, Tyler Bertuzzi and Andreas Athanasiou have all shown they can perform at a very high level in the NHL and will all need new deals this summer. For the first two, extensions (long-term or short) seem in order. Mantha and Bertuzzi have both played well enough this season to continue on the path with Detroit, unless something really catches Yzerman's fancy while he's talking to other front offices.
That leaves Athanasiou however, who has still scored just five goals this season after recording 30 in 2018-19. The blazing fast winger has dealt with injuries but is now back playing for the Red Wings and could be seen as a legitimate buy-low candidate for some other teams. His speed can be game changing, but it hasn't been used enough this year.
One other position to mention is goaltender, where the Red Wings have two veterans that could be of use. Jimmy Howard is approaching his 36th birthday and has struggled this year, but has plenty of postseason experience. Jonathan Bernier on the other hand is younger and has played well enough, but is still signed for another season at $3MM.
Five Players To Watch For: F Andreas Athanasiou, D Trevor Daley, F Luke Glendening, F Robby Fabbri, G Jonathan Bernier
Team Needs
1) Draft Picks: You can bet that Yzerman doesn't want to remain at the bottom of the standings for very long, but if his tenure in Tampa Bay taught us anything it is that he wants a fully-stocked system. The Lightning constantly drafted and developed young talent from within, routinely calling up players that had dominated the minor leagues only to see them make an impact in the NHL right away. The Red Wings need to amass as many picks as possible for Yzerman to create that kind of pipeline, and this deadline should help get him a few more.
2) Young Defense: There are defensemen coming, but it's hard to say which ones will be able to handle the NHL load at this point and which ones will be complementary pieces. Adding prospects or minor league players on the back end is a must at this point—even if Mortiz Seider does look like he might be Yzerman's new version of Victor Hedman.
Photo courtesy of USA Today Sports Images.