With the trade deadline quickly approaching, we continue to profile players that have a good chance to be dealt by February 24th.
Brenden Dillon isn't the flashiest of players offensively.  In fact, he has only surpassed five goals in a season once in his career.  However, he's more of a throwback defenseman, one that protects his own end and plays with a physical edge.  While players like that have been phased out to an extent in recent years, there is still a demand for them when it comes to the playoffs which are often played at a slower pace where the physicality picks up.  Accordingly, the veteran should have no shortage of suitors between now and the trade deadline.
Contract
Dillon is in the final season of a five-year, $16.35MM contract signed back in 2015.  The deal was backloaded as his $3.9MM salary is higher than his $3.27MM AAV.  The contract does not contain any trade protection and he will be eligible for unrestricted free agency in July.
2019-20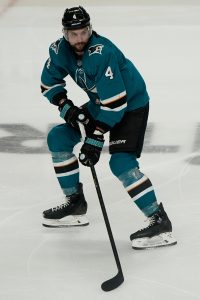 Overall, it hasn't been a great year in San Jose and that's probably putting it lightly.  However, Dillon is one player that has lived up to his expectations.  He has provided the Sharks with his usual style of play.  The 29-year-old leads the team in hits by a considerable margin with 173 while he is actually logging his largest workload in terms of ice time since the 2014-15 season, the one he split between Dallas and San Jose.  With Brent Burns and Erik Karlsson both being erratic at times, Dillon has stepped in as somewhat of a steadying presence while holding down a spot in their top four for most of the year.  While contending teams may not want him to have quite that big of a role, it would certainly be encouraging for them to know that he can step up if injuries were to arise.
Season Stats
57 GP, 1 goal, 13 assists, 14 points, even rating, 83 PIMS, 47 shots, 19:20 TOI, 52.0 CF%
Potential Suitors
It's not a great market for teams looking for defensemen and Dillon figures to be one of the top ones that ultimately gets moved by the deadline.  Accordingly, there should be several suitors for his services.
In the East, Carolina has been known to be shopping for help on the back end due to Dougie Hamilton's injury and they have had talks with the Sharks about Dillon already.  However, their preference at this point seems to be someone that is signed beyond this season.  Toronto is also in need of defensive help and with Andreas Johnsson and his $3.4MM headed for LTIR for the rest of the regular season, they now have the cap room available to bring Dillon in for the stretch run.  Florida would like to upgrade their back end but with minimal cap space available, they would need to make a trade to free up some cap room first.  With Columbus playing their way into the playoff picture, they will likely want to shore up their back end (especially with Seth Jones and Ryan Murray on the shelf) and after spending big a year ago, looking at this end of the market would be a safer approach this time around.
Out West, Winnipeg now has some clarity regarding Dustin Byfuglien (who at the very least isn't expected to play this year) and while Dillon is a left-shot defender (Byfuglien is a righty), they're at a point where they just need defensive upgrades but after going the rental route the last couple of years, they may be aiming for someone with term now.  Vegas is in a similar situation – they could use some help on the back end but they have shied away from rentals over their first two seasons.  Mark Giordano's injury in Calgary could have them looking for defensive help, especially if they strike out on adding the top-six forward they've been coveting for quite a while now.  The Blues may also be on the market for a short-term Jay Bouwmeester replacement; if he lands on LTIR, the cap space they'd free up is almost identical to Dillon's cap hit.
Likelihood Of A Trade
The Sharks are well out of playoff contention.  They also have over $27MM tied up in four defenders for next season thanks to the big deals for Karlsson, Burns, and Marc-Edouard Vlasic.  Even if they want to keep Dillon around, they can't really afford to.  Accordingly, unless he's injured over the next week or so, it almost certain that he will be dealt by the deadline.
Photo courtesy of USA Today Sports Images.