Monday: The Penguins have announced that Marino underwent surgery to repair facial bone fractures and will miss three to six weeks.
Friday: The Pittsburgh Penguins have dealt with injuries to almost every single one of their core players this season, and now the bug has caught on with the rookies too. According to several reports including Matt Vensel of the Pittsburgh Post-Gazette, John Marino has broken three bones in his cheek and is expected to require surgery.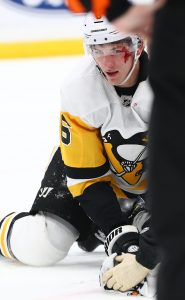 Marino, 22, has been a revelation for the Penguins this season, stepping right into the NHL to become an impact player in his rookie season. A sixth-round pick of the Edmonton Oilers, it was clear he was not going to sign with the team so they traded him to the Penguins in the offseason for a new sixth. All he's done in the meantime is record 25 points in 51 games for Pittsburgh and average more than 20 minutes a game.
Struck in the face by a deflected Steven Stamkos shot on Thursday, it originally seemed as though Marino would be okay. Further evaluation has revealed the extent of the damage, though there has still not been an official statement released from the team. To that end, it is not clear when Marino will be able to return to action for the Penguins
Photo courtesy of USA Today Sports Images