When Travis Zajac and his representatives negotiated the eight-year, $46MM contract extension that he is currently playing under, they not only landed him long-term financial security but also a full no-trade clause throughout. That guaranteed that the two-way forward would be able to stay in one spot for nearly his whole career if he wanted to. Now, it seems he has exercised that right.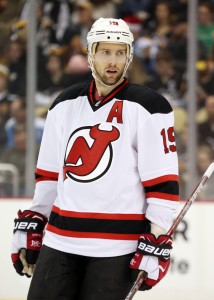 Zajac's agent, Kurt Overhardt, recently told Elliotte Friedman of Sportsnet that the New Jersey Devils approached the veteran forward with a potential deal but that he was not willing to waive his no-trade clause right now. Overhardt explained "we'll see about the future after the season," indicating that Zajac doesn't want to go anywhere at the moment. At the end of the season, Zajac will be 35 and have one year remaining on his contract, which carries a $5.75MM cap hit.
Though there is no confirmation which team was involved, Friedman speculates that it was likely the New York Islanders, who are currently run by the same man who extended Zajac in the first place, Lou Lamoriello. The Islanders are in third place in the Metropolitan Division and could use another responsible forward to plug into Barry Trotz' lineup, especially one with such a reliable history.
Zajac has averaged just under 45 points per 82 games throughout his career, reaching the 40-point threshold eight different times. Only once has he played at least 75 games in a season and not scored 40, and last year saw him reach his highest goal total in a decade. While he hasn't found the same offensive touch this season, his 19 points in 48 games still rank sixth among Devils' forwards.
It's not necessarily his offense that would make him a fit in New York however. An excellent faceoff man throughout the years, Zajac has also received Selke Trophy votes as one of the best defensive players in the league on eight different occasions. For a team that is committed to protecting their goal first, that kind of play is respected.
Still, it doesn't seem like it will happen this season if Overhardt speaks truthfully for his client. The Devils will have to look for another way to gather assets at the trade deadline, and revisit a Zajac trade in the summer.
Photo courtesy of USA Today Sports Images