With the trade deadline now less than a month away, we will be taking a closer look at the situation for each team over the coming weeks.  Where do they stand, what do they need to do, and what assets do they have to fill those needs?  Next up is a look at the Boston Bruins.
Another year, another postseason appearance for the Boston Bruins. The highly decorated franchise has finished with an Atlantic Division spot for each of the last three seasons and out of  the playoffs entirely just seven times since 1967. This year the team has a great chance of finishing in first place in their division and could load up with deadline talent to help push them over the top.
Record
29-10-12, first in the Atlantic Division
Deadline Status
Buyer
Deadline Cap Space
$4.62MM in a full-season cap hit (using LTIR), 1/3 used salary cap retention slots, 47/50 contracts per CapFriendly
Upcoming Draft Picks
2020: BOS 1st, BOS 2nd, BOS 3rd, BOS 5th, BOS 6th, BOS 7th
2021: BOS 1st, BOS 2nd, BOS 3rd, BOS 4th, BOS 5th, BOS 6th, BOS 7th
Trade Chips
When the 2019 trade deadline rolled around, Bruins' GM Don Sweeney decided to add two players to his forward group in Charlie Coyle and Marcus Johansson, while removing a younger option in Ryan Donato. That's the same kind of move the team could make this season given their group of talented-but-unpolished youngsters that haven't been able to consistently provide a secondary scoring punch.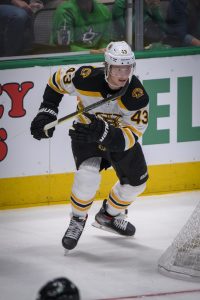 Once again the Bruins find themselves with just a handful of forwards providing regular offense, with Coyle's versatility perhaps still doing enough to be added to that top group. Danton Heinen and Anders Bjork have been extremely inconsistent, and now total just 36 points combined in 73 games. The former is signed for another season, while the latter will become an arbitration eligible restricted free agent in the offseason. If there was a big upgrade to be made, perhaps an acquiring team would be asking about them.
It is the minor leagues that may hold more interesting options however. Trent Frederic and Jack Studnicka are both high draft picks that have had success for AHL Providence, and even suited up a couple of times in the NHL. Both still have enough upside to be extremely enticing to a rebuilding squad, though Boston would seem to be loath to give them away.
There likely aren't many rentals available that would deserve a return of that magnitude anyway, meaning unless the Bruins go after a player with term like Coyle, they could be dealing out of their draft pick cupboard instead. That's what they did last season to land Johansson, who played very well for them on their path to the Stanley Cup Final.
Five Players To Watch For: F Danton Heinen, D John Moore, F Anders Bjork, F Oskar Steen, F Jeremy Lauzon
Team Needs
1) Second Line RW/C: Given the flexibility of Coyle, who can play both right wing and center, the Bruins can cast a little wider net on the trade market. Still, the perfect fit would be another right-handed option, given David Pastrnak is the only true right winger in the top-nine. Chris Kreider, the top rental on the market is a lefty, but Tyler Toffoli—a name often speculated about with regards to the Bruins—plays on the right.
2) Secondary Scoring: Really though, the team just needs to add some more punch up front. If it's on the left side, there are enough good players on the Boston roster that the team could make it work. Defensive depth has also been bandied about as a potential spot to add, but the team already has several players waiting in the minor leagues for their next chance.
Photo courtesy of USA Today Sports Images.