With the trade deadline just a little more than a month away, we will be taking a closer look at the situation for each team over the coming weeks.  Where do they stand, what do they need to do, and what assets do they have to fill those needs?  Next up is a look at the Arizona Coyotes.
Coyotes GM John Chayka has made a pair of big swings at upgrading his offense with the acquisition of Phil Kessel over the summer and the addition of Taylor Hall last month.  The moves haven't paid significant dividends in that regard but at the same time, Arizona is still right in the thick of things in the very tight Pacific Division despite both of their goaltenders dealing with injuries this season.  However, they moved several prospects and draft picks in those moves which will limit the chips that Chayka has to use to try to add more to his roster over the next month.
Record
26-20-5, tied for second in the Pacific Division
Deadline Status
Buyer
Deadline Cap Space
$2.875MM in a full-season cap hit (using LTIR), 0/3 used salary cap retention slots, 45/50 contracts per CapFriendly.
Upcoming Draft Picks
2020: ARI 2nd, ARI 4th, ARI 5th, ARI 6th, ARI 7th
2021: ARI 1st*, ARI 2nd*, ARI 3rd*, ANA 4th, PIT 4th, ARI 5th, ARI 6th, ARI 7th
*- Arizona is guaranteed to lose at least their third-round pick to New Jersey as part of the Hall deal.  The pick becomes a second-round selection if Arizona winds a round in this postseason or Hall re-signs with the Coyotes.  It would upgrade to a first-round pick if they win a round and Hall re-signs.
Trade Chips
With basically their top three picks encumbered for next season pending the completion of the Hall trade and missing two of their top three selections this season, Arizona may be limited in terms of shopping at the higher end of the market, especially since they're not likely going to be willing to part with top prospects like Barrett Hayton or Victor Soderstrom.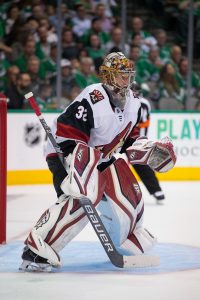 One veteran player to keep an eye on though may be goaltender Antti Raanta.  Over his time with the Coyotes, he has played relatively well for the most part (though his last outing was a rough one) but staying healthy has been a concern.  That eventually led to the acquisition of Darcy Kuemper who earned himself a contract extension this season as he played his way into the number one role.  All of a sudden, that leaves Raanta and his $4.25MM AAV as an expensive insurance policy.  With several teams looking for a short-term upgrade at the backup position, the 30-year-old could be of interest.  Moving Raanta would also open up a bit more salary cap flexibility which could be notable with them being open to a bonus overage penalty next year as a result of being in LTIR.
Beyond him, expect their trade chips to be late-round picks or younger players that are on the fringes of being worth an NHL look that other teams will be able to take a longer look at down the stretch.
Five Players To Watch For: F Michael Bunting, F Brayden Burke, D Kyle Capobianco, F Lane Pederson, G Antti Raanta
Team Needs
1) Defensive Depth – Right now, Arizona's depth options are Jordan Oesterle, Ilya Lyubushkin, and Kyle Capobianco.  With the three can hold their own on the third pairing if need be, it's an area that can certainly be upgraded on.  Landing a capable third pairing defender would be ideal but even if they don't do that, some extra depth to hedge in case of injuries would be worth looking into.
2) Scoring Help – Despite adding Hall and Kessel, their offense has only gone up by a quarter goal per game from last season.  Nick Schmaltz is sitting at just seven goals this season while Derek Stepan is at eight; those are their top-paid forwards after Kessel.  Another impact scorer would be ideal although, with their limited cap space, they may have to settle for targeting a complementary piece that fits in better with some of their scuffling forwards.
Photo courtesy of USA Today Sports Images.