With many teams having this week off as their bye heading into the All-Star Game, it was a relatively quiet week around the NHL.  However, there were still a few notable headlines which are highlighted in the top stories of the week.
Vote Of Confidence For Wilson: This season has not been a good one for San Jose.  After making it to the Western Conference Final in 2019, they were able to keep the core intact including getting defenseman Erik Karlsson locked up long-term.  Things were looking up, or so it seemed.  This season has been the complete opposite with many veterans struggling and a coaching change that hasn't changed much.  Despite that, GM Doug Wilson received a vote of confidence from owner Hasso Plattner which suggests that he will be given the opportunity to turn things around.  Previous reports have suggested that Wilson, who has been with the team since 1997 (GM since 2003) after finishing his career as a player there, was inclined to keep the core intact but their continued struggles could ultimately change that.
Florida To Host The 2021 All-Star Game: After St. Louis hosted the All-Star festivities this week, the event will be heading back to the East as Florida will host the event next season.  There have been frequent format changes over the years and it appears that this will the case for this event as NHL Commissioner Gary Bettman suggesting that there could be a return of an international component.  This comes on the heels of him reiterating his desire to not shut down in 2022 to allow NHL players to participate in the Olympics.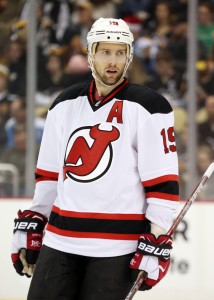 Zajac Won't Waive: Devils center Travis Zajac has been with New Jersey since they made him a first-round pick (20th overall) back in 2004.  With the team struggling once again this season, at least one team made a serious overture about acquiring him with some speculation that the Islanders, a Metropolitan Division rival, was the team that was going after him.  However, his agent Kurt Overhardt indicated that Zajac is not willing to waive his no-trade clause at this time while adding that they will revisit the situation after the season which suggests that he won't be on the move in the next month.  The 34-year-old still has one year left on his eight-year contract after this one with a $5.75MM cap hit.
Lowry Out For A While: The Jets have dealt with injury issues all season long and will now be missing a key player for at least a month as Adam Lowry is out with an upper-body injury.  Among their full-time centers, Lowry is Winnipeg's best player at the faceoff dot while his 132 hits leads the team.  Winnipeg is currently tied for ninth in the Western Conference and are now down five players off their roster plus the uncertain situation surrounding suspended defenseman Dustin Byfuglien.
Andersson Assigned: The Lias Andersson situation has been a strange one over the last month.  After abruptly leaving AHL Hartford and demanding a trade, the Rangers suspended him without pay and he returned to his native Sweden but he wasn't able to play.  That now has changed as the team has officially loaned him to HV71 of the SHL.  While it's certainly a benefit from a development perspective, it's also an important one on the trade front as interested teams will be able to keep tabs on his progress before deciding whether or not to make a move.  If the Rangers do decide to trade the 21-year-old, he'll be one of the more intriguing prospects to change organizations over the next month.
Photo courtesy of USA Today Sports Images.