Before Zack Kassian takes the ice to confront Matthew Tkachuk and the Calgary Flames later tonight, he'll be the subject of some other news. The Edmonton Oilers forward has signed a four-year contract extension according to Bob McKenzie of TSN, which will carry an average annual value of $3.2MM. Kassian was scheduled to become an unrestricted free agent this summer.  McKenzie adds that the deal does not contain any trade protection and that the breakdown of the contract is as follows:
2020-21: $2.5MM salary, $1MM signing bonus
2021-22: $2.5MM salary, $1MM signing bonus
2022-23: $3.5MM salary
2023-24: $2.3MM salary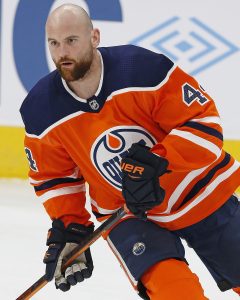 Kassian, 29, signed a three-year, $5.85MM deal with the Oilers back in 2017, meaning he's getting quite the raise after logging some tough minutes with the club. A reclamation project by the time he ended up in Edmonton, Kassian has steadily developed into a real contributor for the team and has 13 goals and 28 points while often skating beside Connor McDavid and Leon Draisaitl.
While some will argue that his offensive production is entirely dependent on those superstars, other players have struggled when given those minutes. Kassian's above-average skating ability isn't common in a player who plays such a physical game, and even before he came to Edmonton he had shown some goal-scoring promise around the net.
Still, at four years, the length of the deal comes with some significant risk. The Oilers aren't exactly in a situation where they can throw around $3.2MM, given they have so much committed to McDavid and Draisaitl. The team is getting out from under some other bad contracts over the next few seasons, but that doesn't mean they can afford to sign new ones. While Kassian certainly isn't guaranteed to decline over the length of the deal, he also doesn't offer a ton of upside as a top-six option.
Edmonton does have a huge number of decisions to make on their forward group for next season however. Even after signing Kassian they still have six forwards on the roster that will become unrestricted free agents at the end of this season. At the very least they know that the power forward can slot somewhere into the NHL lineup next year.
From Kassian's point of view, it's easy to understand why he would want to sign long-term in Edmonton. Originally drafted 13th overall by the Buffalo Sabres in 2009, he has been open about his battle with addiction and alcohol abuse in the early years of his professional career. Not only has he found a place among some of the best forwards in the world, but sobriety and a new chapter in his hockey playing story. Now he'll get to spend the next several years trying to show why he was picked so high in the first place.
Photo courtesy of USA Today Sports Images