As the holiday season approaches, PHR will take a look at what teams are thankful for as the season heads past the one-quarter mark. There also might be a few things your team would like down the road. We'll examine what's gone well in the early going and what could improve as the season rolls on for the Dallas Stars.
What are the Stars most thankful for?
Last year, Dallas allowed the second-fewest goals in the league at 2.46 per game.  They're allowing even fewer this season, checking in at just 76 through 32 contests (2.38 per game).  They have Ben Bishop and Anton Khudobin to thank for that.  The duo are in their second season together and Khudobin has played more than well enough to allow the Stars to play Bishop, 33, less than a full number one workload which paid dividends last season.  It's not an overly expensive tandem either as they slot in with the 12th-highest goalie cap charge in the NHL though that will likely go up next year if they ultimately re-sign Khudobin, a pending unrestricted free agent.
Who are the Stars most thankful for?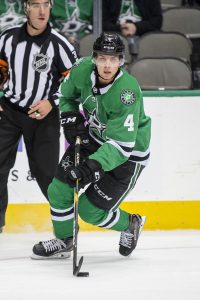 Pretty much every team with eyes on contention needs a top-notch defenseman.  That is one element that Dallas has lacked in the past but that is very rapidly changing with the emergence of Miro Heiskanen as one of the up-and-coming stars on the back end in the league.  The second-year pro just missed out on being one of the finalists for the Calder Trophy last season but is having an All-Star caliber campaign.  He already has collected 21 points this season, good for a share of 12th among all NHL defenders.   Heiskanen has also seen his playing time jump to 24:29 per night to lead the team.  He's under team control for at least the next five seasons and still has a year left to go after this one on his entry-level deal, one that carries a base cap hit of just $894K.
What would the Stars be even more thankful for?
More production from their top line.  When at their best, the trio of Jamie Benn, Tyler Seguin, and Alexander Radulov can be among the better groups in the league.  However, none of them have reached double figures in goals yet while Radulov (the closest to that mark with nine) being a recent healthy scratch.  At a combined cap hit of $25.6MM, a lot more is expected from that group.  If they can get going, Dallas could find themselves battling near the top of the Central Division instead of battling for a Wild Card spot.
What should be on the Stars' Holiday Wish List?
Scoring, scoring, and more scoring.  Dallas hasn't had many issues keeping the puck out of their own net but they're near the basement of the league in goals scored.  More production from that top line would go a long way towards solving that but even with that, they need a boost on their second and third lines as well.  With Martin Hanzal out for the season, the Stars have some financial flexibility to go into LTIR although with performance bonuses for Heiskanen, Corey Perry, and Andrej Sekera, there is some risk to doing so as any that are reached would see their cap charge carry over to next year.  With that in mind, GM Jim Nill may be looking for player-player swaps to try to find that scoring help.
Photo courtesy of USA Today Sports Images.