As the holiday season approaches, PHR will take a look at what teams are thankful for as the season heads past the one-quarter mark. There also might be a few things your team would like down the road. We'll examine what's gone well in the early going and what could improve as the season rolls on for the Carolina Hurricanes.
What are the Hurricanes most thankful for?
Spending ability.
The Hurricanes have built a strong drafting and development system over the last several years, but sometimes there had been tough decisions to be made over how many of the league's top players they could truly afford. With new ownership and a different swagger about the franchise, they're now a cap ceiling team that didn't hesitate to match an expensive, front-loaded offer sheet in the summer. Sebastian Aho will earn more than $23MM of his $42.27MM deal in the first twelve months.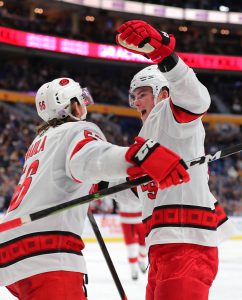 Who are the Hurricanes most thankful for?
No, a paragraph from the Buffalo Sabres' piece didn't get left in accidentally. If it weren't for Dahlin's presence in the 2018 draft, the Hurricanes would have never been able to grab top scorer Andrei Svechnikov second overall. Though he had a slow rookie season by some standards—20 NHL goals for an 18-year old is still pretty good—Svechnikov is really showing why he was so highly regarded coming into the draft and was a potential option at No. 1.
With 31 points in 29 games the young Russian forward has already almost caught his total from last season, and he wont turn 20 until the end of March. It's hard to really know how far his talent can take him, but that superstar-level, MVP-type forward that the Hurricanes have been looking for for so long might already be on the roster, and his name might not be Aho.
What would the Hurricanes be even more thankful for?
Some losses from the rest of the Metro.
Carolina is 17-11-1 through their first 29 games this season and still somehow are sitting in fourth place in the Metropolitan Division. They would be firmly in second in the Atlantic Division, but the Capitals, Islanders and Flyers have all done a little bit better this year.
The Hurricanes are coming off an Eastern Conference Final appearance that shocked the NHL, but few would be surprised to see them in Stanley Cup contention this time around. Settling for a wild card spot in the Eastern Conference would make that extremely difficult however, especially if they end up with a first-round matchup against those Boston Bruins that ended their Cinderella run last season.
What should be on the Hurricanes' Holiday Wish List?
An improvement between the pipes.
There isn't a man on the Hurricanes roster that would say Petr Mrazek isn't a big part of the team, but the 27-year old goaltender still suffers from inconsistencies that have plagued his whole career. He'll stand on his head and provide the Hurricanes with Vezina-caliber netminding one night, and then let in a pair of soft goals the next.
His .903 save percentage on the year simply isn't good enough to carry a team to a Stanley Cup, but it's not that far off from where Mrazek has sat for much of his career. James Reimer has been slightly better statistically, but loses just as many games as he wins and probably isn't the answer either. It's hard to improve your starting goalie position during the season, but perhaps Carolina can find a way to stop just a few more pucks in the second half.
Photo courtesy of USA Today Sports Images