As the holiday season approaches, PHR will take a look at what teams are thankful for as the season heads past the one-quarter mark. There also might be a few things your team would like down the road. We'll examine what's gone well in the early going and what could improve as the season rolls on for the Calgary Flames.
What are the Flames most thankful for?
Strong long-term cap certainty.  With salaries for top-end players rapidly on the rise, Matthew Tkachuk checks in as their top-paid player at a $7MM AAV.  Their other core players are all locked up through at least 2021-22 so that relatively low top mark is going to be in place for a few years at the very least.  While their current salary cap situation is a bit tenuous, there are undoubtedly teams around the league that would love to have that type of ceiling at the top of their salary structure.
Who are the Flames most thankful for?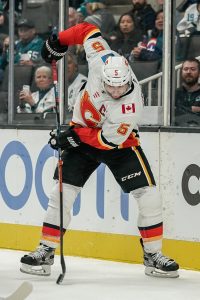 Mark Giordano has largely flown under the radar in his career.  And let's face it, even with the 2019 Norris Trophy under his belt, he's still under the radar.  While it's true that he likely won't be a repeat winner this season, he still does an awful lot for Calgary's back end.  He leads them in minutes played per game by nearly three a night while often logging the toughest defensive assignments.  His offense has dipped a bit relative to last year but is actually above the pace of the previous two seasons.  And he's doing this at the age of 36.  Usually, there's some wear and tear on top defenders by that age but that hasn't really manifested yet for their captain.
What would the Flames be even more thankful for?
More production from the top line.  While the numbers for Johnny Gaudreau (5-16-21) and Sean Monahan (6-15-21) aren't terrible, they're still well below their paces from a year ago.  The drop in output has played a large role in Calgary now sitting 26th in the league in goals scored after sitting in second just a year ago.
To be fair, they shouldn't be singled out alone for the drop off offensively.  Mikael Backlund has just three goals on the season, Michael Frolik has one, and Milan Lucic is still looking for his first.  Those three veterans combine for a $14.4MM AAV; they're not getting anything near good bang for their buck.  Even if they don't all start producing relative to their cap hits, any kind of production would certainly go a long way towards deepening their attack.
What should be on the Flames' Holiday Wish List?
With some of these inflated contracts on the books, their cap space is limited so finding a taker for someone like Frolik who is on an expiring contract would be extremely helpful.  Assuming they have to take a similar contract back, that player may be able to contribute a bit more offensively which would help their scoring struggles as well.
Beyond that, they'd like to get some certainty with regards to pending UFA defensemen Travis Hamonic and T.J. Brodie.  Hamonic doesn't appear to be open to an in-season extension but GM Brad Treliving will likely circle back on that one before too long to see if there is a chance at getting a new deal done.  Can they keep him and if not, does their focus shift to Brodie or do they continue to wait?  A lot of what Calgary can do beyond this season is tied to what happens here as they basically have to encumber their cap space until these cases are figured out.  Some early answers allowing ample time to try to either accommodate new deals or find a potential trade partner would be something that Treliving would love to have.
Photo courtesy of USA Today Sports Images.