As the holiday season approaches, PHR will take a look at what teams are thankful for as the season heads past the one-quarter mark. There also might be a few things your team would like down the road. We'll examine what's gone well in the early going and what could improve as the season rolls on for the Buffalo Sabres.
What are the Sabres most thankful for?
A deep group of defensemen.  Buffalo has considerable defensive depth with which they can deal from to try to shore up their forwards.  What's particularly nice for GM Jason Botterill is that he has a few different types of defenders that he can move.  Veterans Marco Scandella and Zach Bogosian aren't likely part of the long-term plans but could fill a void on the third pairing for some teams.  Colin Miller is someone that has attracted a fair bit of interest over the years and has had a limited role with the Sabres so far.  While Rasmus Ristolainen's willingness to be dealt isn't as high, their depth on the right side makes a potential move there an option at a time where impact defenders are seldom available for trade.  Many teams look to add defensive depth as the season progresses and Botterill should be well-positioned to capitalize.
Who are the Sabres most thankful for?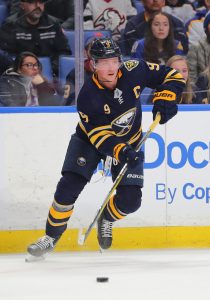 Jack Eichel.  It has taken some time but he has emerged as a legitimate star center and is making his eight-year, $80MM contract look much better now.  After reaching (and surpassing) the point per game mark for the first time last season, he has taken his offensive progression to another level and sits seventh in league scoring heading into play on Monday.  While he will be viewed by many as the consolation prize to Connor McDavid who went one spot ahead in the 2015 draft class, Eichel has emerged as a legitimate franchise player in his own right and with six years left on his deal after this one, he'll be sticking around for a while.
What would the Sabres be even more thankful for?
Some stability and consistency.  Since Lindy Ruff was let go following the 2012-13 season, Buffalo has gone through now four different head coaches with none of them making it through more than two years.  That type of frequent turnover makes it difficult to generate much in the way of positive momentum.
Another hallmark lately has been Buffalo's penchant for streakiness.  They've had moments where they put together a strong string of wins but have frequently given that back with a stretch of several losses in a row.  The hope is that Ralph Krueger can be the one to turn the ship around but in the first two months of this season, that streakiness has continued.  A lengthy losing streak last month bumped them outside of the playoff picture for the time being as they look to snap of nine straight postseason misses.
What should be on the Sabres' Holiday Wish List?
More scoring help.  Eichel, Jeff Skinner, Victor Olofsson (one of the more pleasant surprises through the first quarter of the season), and Sam Reinhart have all scored at an impressive pace so far.  However, they've combined for more than 57% of Buffalo's goals as their secondary production has largely been non-existent.  Needing their top scorers to produce at the paces they're at for the entire year is asking for a lot.  If the likes of Marcus Johansson, Conor Sheary, and Jimmy Vesey aren't going to produce, Botterill will need to make a trade.  At least he has several defenders to deal to try to swing such a move.
Photo courtesy of USA Today Sports Images.