Topics in this edition of the PHR Mailbag include Alex Pietrangelo's future in St. Louis, what the Rangers may do in the second half, Jeremy Colliton's coaching tenure in Chicago, the viability of Torey Krug as a trade candidate for Boston, adding to the Islanders, and forecasting the Metropolitan Division standings.
@Pointdink: Will the Blues trade Petro?
I don't think they will.  While it's fair to look at their cap situation moving forward and wonder how they could fit him in at a new deal paying somewhere between $8.5MM and $9.5MM per season, I suspect GM Doug Armstrong still believes he can get him signed.  Maybe the cap goes up a bit more than expected which gives them enough to get a new deal done.  Perhaps there will be a willingness to buy out a contract to free up another couple of million (even though it would add money to the books later on).
Even if neither of those are likely to happen, St. Louis isn't exactly a seller.  Despite missing Vladimir Tarasenko, they sit atop the Western Conference and with Tarasenko likely to be back for the playoffs, they have their eyes on trying to repeat as Stanley Cup champs.  Dealing away their captain and a crucial part of their back end doesn't help them try to accomplish that even if it runs the risk of losing him for nothing in free agency.
acarneglia: How do the Rangers make the playoffs this year?
CoachWall: The trade deadline is approaching. What assets, if any, do the Rangers trade and what do they seek in return?
Two very different scenarios here regarding the same team.
Let's start with how they get to the postseason.  For that to happen, Alexandar Georgiev will need to continue to steal minutes away from Henrik Lundqvist and provide some more consistent goaltending while stealing some games.  Chris Kreider will need to stay put.  Kaapo Kakko will have to produce with more consistency as does Pavel Buchnevich.  If that all happens, perhaps that persuades GM Jeff Gorton to make a move to add a veteran or two and they help propel them to a postseason position.  It's certainly not impossible that all of that happens – some of it likely will – but it's not a probable outcome.
Selling is probably the way they go here.  Unless they go on a big run, they'll either be on or below the bubble and given where they are in their competitive window, the smart play is to add for the future and look for young players that line up with their group of current youngsters.  In a perfect world, I think Gorton would rather add those than draft picks or prospects that are still a few years away.
Kreider is the obvious candidate to be moved unless they can agree to a contract extension.  I think Jesper Fast moves to a team looking to add bottom six depth.  That's basically the end of their rental assets.  Buchnevich has been hot and cold throughout his career and will be entering the final year of his bridge deal next season.  He's a change of scenery candidate whether it's now or in the postseason.
Darkhorse: Frustration is evident when looking at Toews and company in Chicago. Lehner has been candid saying the team has the talent but doesn't play defense. Is the Colliton experiment over soon? Who else would they bring in?
I don't see a coaching change on the horizon in Chicago.  GM Stan Bowman's decision to let Joel Quenneville go a year ago was a bit controversial given the composition of their roster (it wasn't exactly a playoff-caliber team on paper) so I have a hard time believing he'll get the green light to let go of Colliton barely a year later.  As far as coaching tenures go, he has only been there for 103 games.  In the grand scheme of things, that's not a lot of time.
I suppose with Peter DeBoer out there and his believed willingness to return this season if the right situation opens up, he'd have to be considered as a potential replacement but a lot of times, in-season moves involve an assistant taking over (Marc Crawford's situation makes that unlikely) or the AHL head coach moves up and Derek King doesn't have a lot of experience as a bench boss himself.  If things continue to go south for the rest of the season, there's a chance a change would be made but it may not just be the coach in that situation.
mcase7187: Who or what can the B's do to bring in help with scoring goals on any other line than the 1st line? Could they trade Krug for that help?
The idea of trading from their strength on the back end by moving Torey Krug, a pending UFA out, makes some sense on the surface.  However, there are a trio of reasons that I think GM Don Sweeney will opt not to do so.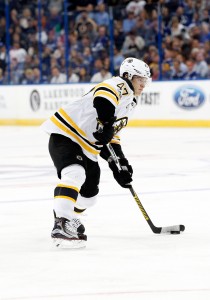 The first is that I don't think he has ruled out signing Krug to a new contract.  Yes, their cap situation is going to be tight even before factoring in a significant raise on his current $5.25MM AAV.  But he's a big part of their core and taking away from that group to bring in another core piece doesn't seem like something that Sweeney is all that inclined to do based on his previous moves.
I'm also not sure that Boston is prepared to give up Krug's offensive ability to try to add to their offense.  Charlie McAvoy has shown flashes of his offensive upside but he has yet to score this season.  Zdeno Chara still is somewhat of a threat from the point but not to the extent he was in the past (and he still leads their back end in goals).  Krug's offense is a dimension that they can ill afford to lose.
Lastly, the teams that are going to be selling the scoring talent aren't going to be interested in Krug.  They're going to want top picks and prospects, not a pending free agent.  While it's certainly possible that the selling team could turn around and flip Krug for those assets, they'd likely just prefer to trade their own player for those instead of making two trades to get them.
Boston is going to be trying to push for another long playoff run.  It's unlikely that they'll be subtracting any key player off their roster even if it is to fill a need.
nk: The Islanders are dominant when they score 3+ goals. The question is can they consistently score three goals especially as the season progresses and the playoffs begin. Do you see LL making an impact trade for a top-six forward and would they be willing to make a move even if for a rental to give the Isles a legit shot at the ECF or even Cup finals?
Lou Lamoriello hasn't shied away from making in-season splashes in the past when the time was right in the past.  We also know he was looking to make a big splash over the summer although that never came to fruition.  They have plenty of cap space (only Colorado has more among playoff contenders) so they won't be constrained by needing teams to retain salary to facilitate a move which also gives them an advantage.
As long as the Islanders can hang around the top spot in the Metropolitan (more on that in the next question), Lamoriello will likely be thinking big as the deadline approaches.  A scoring by committee approach can have some success in the playoffs but deepening that committee would certainly help their chances.  I think he'd like to keep their young prospect core largely intact though which means he may be looking for a rental instead with the hopes that if that player fits in, he's open to signing a long-term deal in the summer, just like he did with Ilya Kovalchuk in New Jersey back in 2010.
met man: The Metropolitan Division is very competitive this year. How do you see it playing out?
Washington has already started to separate themselves from the pack while the Islanders will also do so if they win their games in hand.  Assuming they stay healthy, that should be the top two finishers and I'd give the Capitals the advantage as things stand.
I've been very impressed with how Pittsburgh has hung around despite a growing list of injuries that seems to see a core piece go down every couple of weeks.  As those players return, they should be able to start to claw their way back up.  Right now, they're tied with Carolina but I see them leapfrogging the Hurricanes.
Carolina's goaltending still concerns me but they do enough other things well that they should be able to hold down a Wild Card spot at the very least.  If Philadelphia's top forwards get back to producing the way they have in the past, they could jump past the Hurricanes but for now, they'll stay in fifth and likely the final Wild Card position.
Currently, the Rangers and Blue Jackets are tied for sixth and neither team is likely to make a big playoff push.  That means both should sell but Columbus doesn't have any expiring contracts to part with while New York has one of the top rentals in Kreider plus a couple others that could move.  I also expect the Blue Jackets' young goalie tandem to improve in the second half which should be enough to put them sixth and the Rangers seventh.  As for the Devils, they're looking pretty secure in that bottom spot, especially as they eventually start to sell off some of their other veterans.
Photo courtesy of USA Today Sports Images.