It's not often you hear NHL players openly talking about their contract negotiations, both past and future, but that's exactly what Nathan MacKinnon did when he sat down with Jordan Horrobin of Forbes. The Colorado Avalanche star went into his decision to sign a long-term deal in the summer of 2016 and how well it has worked out for both him and the organization, who are using cap savings from his relatively-low contract to strengthen the team.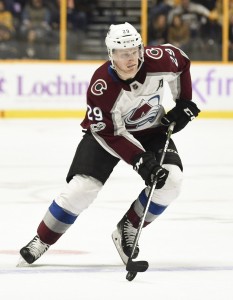 Most notably however is the end of Horrobin's piece, which includes a jarring, if optimistic quote from the superstar center:
On my next deal, I'll take less again. Because I want to win with this group.
MacKinnon, 24, is set to become an unrestricted free agent when his seven-year, $44.1MM contract expires following the 2022-23 season. At that point he will be 27 and still likely considered one of the best players in the entire NHL. He's already there after scoring 196 points over the last two seasons and another 44 in his first 27 games this year. Those performances have earned him second and sixth-place finishes in Hart Trophy voting, and if the award was given out today he'd be among the finalists once again.
A 27-year old star like MacKinnon doesn't hit the market every year and teams would be tripping over themselves to hand him a blank check to join their roster. It obviously sounds like he wants nothing to do with that though, and will instead try to ink a team-friendly deal to win in Colorado.
That's a noble position to take for MacKinnon, who has become the face of the franchise since Matt Duchene was shipped off to Ottawa two years ago. Colorado, who have suffered countless injuries this season to key players, rely on MacKinnon to generate offense at an exceptional pace, something he has had no problem doing of late. Currently on an eight-game point streak (seven goals, 11 assists), he has caught up to Boston Bruins forward Brad Marchand and now sits behind only Leon Draisaitl and Connor McDavid in league scoring.
His $6.3MM cap hit is often pointed to as one of the best bargains in the league, but if MacKinnon takes a discount on his next deal Colorado GM Joe Sakic will really be the envy of every other front office in the league.
Photo courtesy of USA Today Sports Images