After the Los Angeles Kings removed Ilya Kovalchuk from the lineup a month ago, the rest of the hockey world has waited to see what would happen to the veteran forward. With a signing bonus payment due on December 15th, there should be some clarity coming this weekend. Igor Eronko of Sport-Express tweeted today that the rest of Kovalchuk's contract could be terminated after that, and even with considerable interest from the KHL, the forward wants to stay in the NHL.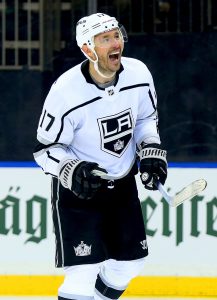 Even after the bonus payment this weekend, Kovalchuk's contract is still significant. The deal stretches through the 2020-21 season and still has more than $4.25MM on it. His cap hit of $6.25MM meanwhile will stay on the Kings' books even with a termination, thanks to the contract being signed after he was 35. All of this makes a termination a messy conclusion to a marriage that simply hasn't worked.
Leaving the KHL to return to the NHL in 2018, Kovalchuk was pursued by several teams and eventually signed a three-year, $18.75MM with the Kings. When he scored 14 points in his first 14 games while averaging nearly 19 minutes a night, it looked like the old Kovalchuk was back and ready to take over the NHL once again. Things quickly went south however when John Stevens was fired and Willie Desjardins took over the coaching duties, with the winger going scoreless in an 11-game stretch and finding himself on the fourth line playing just a handful of minutes each night.
Kovalchuk ended with 34 points on the season last year in 64 games, and has nine in 17 before being removed this time around. The 36-year old has remained with the club through it all though, attending practices and sitting in the press box to watch the games he wasn't in.
If the contract does get terminated, you can bet that someone else will at least take a chance on Kovalchuk on a short-term, low-money deal. The Boston Bruins and San Jose Sharks showed interest in him during the free agent process, but it is not clear who will be after him this time around.
Photo courtesy of USA Today Sports Images