The Toronto Maple Leafs have locked up one of their unexpected contributors, signing Justin Holl to a three-year extension. The deal will carry an average annual value of $2MM and keeps Holl under contract through the 2022-23 season.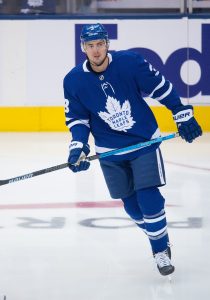 If you want a success story based on hard work, determination and patience, look no further than Holl. The right-handed defenseman was originally a second-round pick of the Chicago Blackhawks in 2010, but after playing four years at the University of Minnesota failed to earn himself an NHL entry-level contract. Instead, Holl would take his talents to the ECHL where he played 66 games for the Indy Fuel and starred, resulting in an invitation to Toronto training camp in 2015.
That invitation wasn't to play for the Maple Leafs though. Holl was with the Toronto Marlies for the training camp and eventually earned himself an AHL contract, a deal that would turn out to be very valuable to the Maple Leafs' organization. After an excellent 2015-16 season with the Marlies–under Sheldon Keefe, who now coaches the Maple Leafs–Holl signed his first NHL contract. Still, he didn't make his debut until the 2017-18 season and then was made a healthy scratch 71 times under Mike Babcock in 2018-19.
This year has been completely different. Taking a full-time role early in the year, Holl has developed into a legitimate top-four option for the Maple Leafs and arguably their best right-handed defensive option. While Tyson Barrie was brought in to provide offense, Holl has been a much more reliable player in his own end, even forming a sort of shutdown pairing with Jake Muzzin before the latter broke his foot recently.
When it came to the future on defense for the Maple Leafs, it was hard to know exactly what the plan was. Among the team's regulars only Morgan Rielly was signed for next season, with Holl, Muzzin, Barrie, Cody Ceci and Martin Marincin all scheduled for unrestricted free agency. Travis Dermott is a restricted free agent and will also need a raise, something that complicates things for the Toronto front office. The team is already paying out so much money to their forward group that the budget for defense will be tight, and likely means at least one of Muzzin or Barrie will have to be let go.
This relatively cheap deal will help that situation, though there is still some risk in the contract. Holl has played only 51 NHL games to this point thanks to the year he spent in the press box, and will turn 28 in a month's time. There's no guarantee that he will continue to perform at a top level, or even provide $2MM in value. The Maple Leafs are already walking a tight rope in terms of cap flexibility, meaning there will be pressure on Holl to make sure he can stay in the lineup and performing for the next several years.
Photo courtesy of USA Today Sports Images