As the holiday season approaches, PHR will take a look at what teams are thankful for as the season heads past the one-quarter mark. There also might be a few things your team would like down the road. We'll examine what's gone well in the early going and what could improve as the season rolls on for the Arizona Coyotes.
What are the Coyotes most thankful for?
Stable ownership.
The entire Arizona organization seems stronger ever since the ownership merry-go-round stopped with the franchise sale this summer, and it's easy to imagine it having a real impact on the team's performance. New owner Alex Meruelo has committed to keeping the team in Arizona and has taken steps to connect with the Hispanic market in and around the state.
There has been a dark cloud of uncertainty following the Coyotes for more than a decade, but as the skies start to clear the sunlight is starting to illuminate an impressive on-ice product.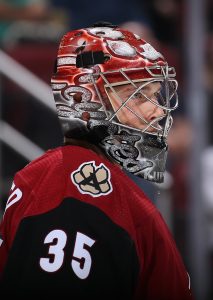 Who are the Coyotes most thankful for?
Darcy Kuemper (and Antti Raanta).
That impressive product starts in net, where Kuemper has once again shown he not just a capable NHL goaltender but an outstanding one. The 29-year old posted a .925 save percentage in 55 appearances last season but was completely overlooked by many hockey fans (a fifth-place Vezina finish wasn't enough to turn heads). Talk about an encore performance; Kuemper has a .932 through 17 games this season and is a huge reason why the Coyotes are one of the best in the league at keeping the puck out of their net.
Having a "backup" like Raanta doesn't hurt, who is posting his own incredible season as he tries to stay healthy. The 30-year old was supposed to be the full-time starter when he came to the Coyotes in a 2017 trade, but no one is complaining about his .926 save percentage through nine games, even if he does cost more than twice as much as Kuemper.
What would the Coyotes be even more thankful for?
Phil Kessel's former self.
When the Pittsburgh Penguins made Kessel available this summer, they were originally rumored to be getting Jason Zucker from the Minnesota Wild. When that deal fell through however because Kessel wouldn't waive his no-trade clause, it became clear that Arizona may be one of the only destinations available. That's because head coach Rick Tocchet is supposed to have a special relationship with the enigmatic star, but it hasn't translated into much production so far.
Kessel has just 14 points through 26 games so far for the Coyotes and has a team-worst -12 rating. That 44-point pace would be Kessel's worst season since he was a 20-year old in Boston, and a disaster for the Coyotes who were expecting him to be their leading offensive force and biggest star this season.
What should be on the Coyotes' Holiday Wish List?
Another goal-scoring weapon.
If Kessel's not going to turn into the point-per-game player he has been the last two years in Pittsburgh, the Coyotes may need to go get themselves another offensive option at some point. Only Conor Garland has double-digit goals for the team so far this season and no player has cracked the 20-point mark so far.
Though the team is actually into their long-term injured reserve cap space already, they do have some flexibility still if they want to add a player at some point. If they're in the race, we'll see the financial commitment of Meruelo tested once again.
Photo courtesy of USA Today Sports Images