The Calgary Flames have moved forward Sam Bennett to long-term injured reserve, taking him out of the lineup for the next while. With the added cap flexibility however they have recalled Tobias Rieder and Alexander Yelsesin, giving them some added depth while they deal with the injury.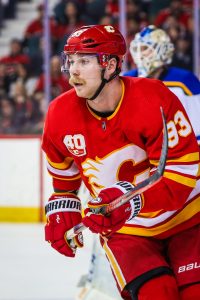 Bennett missed Calgary's last game with the upper-body injury, and will now be out at minimum 24 days or ten games from the last time he played, November 16th. Previously listed as week-to-week, there's no clear indication of when he will be ready to return.
Reider's return isn't much of a surprise after he was sent to the minor leagues just yesterday, but Yelesin is an intriguing new face for fans to watch. The 23-year old defenseman was signed out of the KHL this summer and has played in 15 games with the Stockton heat this season. Not much of an offensive threat, he nevertheless was a KHL All-Star last season and will help the team fill in the absence of T.J. Brodie who continues recovering after his collapse at practice recently.
Yelesin was signed to a two-year entry-level contract, that interestingly includes some hefty potential performance bonuses. The only way he would earn those is in the NHL, meaning this represents a big opportunity for the young defenseman.
Photo courtesy of USA Today Sports Images