Topics in this edition of the PHR Mailbag include Gabriel Landeskog's injury, San Jose's early struggles, the potential (or lack thereof) for movement in Toronto, Nikolai Prokhorkin's less-than-ideal situation, the allure of the international free agent market, and Boston's secondary scoring troubles.  If your question didn't appear here, watch for it in next week's edition.
M34: Over-under on games Landy misses?
When they announced the lower-body injury late last month, Colorado head coach Jared Bednar indicated that Landeskog's injury was "longer than week-to-week".  So we know that all of November (14 games) plus the final one in October is the absolute minimum.  If it was a four-to-six week thing, Bednar probably wouldn't have made that comment so it's safe to rule out the first half of December at the very least (another seven games).  At this stage, I'd be surprised if he played at all in December so let's rule out the entire month (13 games in total).
That puts the total at 28 games missed and with a light month of January (nine games) on their schedule, I'd take the over on 28.  While he's an important player for them, they'll want to be cautious.
JDGoat: Is there anything to suggest San Jose can turn it around before it becomes too late?
If you're looking for reasons to be optimistic about the Sharks' chances, I'd look at their defense.  Brent Burns is doing fine offensively but is struggling more than usual in his own end.  He can be better.  Erik Karlsson is off to a tough start.  He can be better.  Marc-Edouard Vlasic is off to a really rough start.  He can be better.  If those three (who combine for over 72 minutes per game or about 60% of their total blueline time), their goaltending duo of Martin Jones and Aaron Dell will get better.
Up front, Logan Couture isn't going to play at a 10-goal pace all season long.  Timo Meier may not reach 66 points again but he should be able to get past 40 at the very least and he's not even playing at that level right now.  While Joe Thornton is clearly at the back of his career, I'm not going to completely write him off either.
The potential for this roster is still pretty good even though they're an older group.  If they did nothing and won seven of their next 10 games, I wouldn't be the slightest bit surprised.  If they go 3-7 in that stretch though, then it might be too late with all due respect to what St. Louis did just last season.
@JoshVesh: You see Marincin getting picked? And where do the Leafs go for their backup goaltender? Maybe a trade by Saturday to clear room for Hyman?
Since this was asked, we now know that Martin Marincin has once again cleared waivers, paving the way for him to be among those that are sent to the minors when Zach Hyman gets the green light to return.  That didn't come as much of a surprise considering he has cleared multiple times in the past and most teams have a player like him (a fringe piece with a fair bit of NHL experience over the years) in their system already.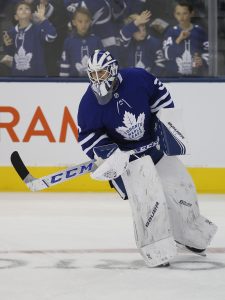 As for the backup goalie situation, I don't think they're going anywhere beyond looking down the bench at who they have in Michael Hutchinson.  They don't have the cap room to spend much more than the league minimum they're paying him and at that price tag, it's not as if there are plenty of notable upgrades available.  Yes, he's off to a rough start but playing him in the second half of four back-to-backs against the three top-scoring teams in the East (Washington is first while Boston and Montreal are tied with Toronto for second) put him in a really tough situation.  Give him a couple of easier starts in non-back-to-backs (which they'll need to do if they want to rest Frederik Andersen a bit more) and he'll probably provide some better results.
I don't expect a trade in the short-term when it comes to activating Hyman.  It's not as if Toronto didn't know this was coming over the summer and they structured their cap situation to be this way where they could keep as much of their talent together as they could, even though it comes with the risk of carrying minimal depth and no cap room to work with.  GM Kyle Dubas is going to want to see how this group looks when fully healthy (something they haven't been able to see yet given the injuries) and then if tweaks need to be made (or cap space has to be opened up), a trade in the second half of the season becomes likely.
MixtureBill: Thoughts on Prokhorkin in LA? The team is floundering and McLellan seems to refuse to put him in the lineup. When does his European assignment clause expire, and do you see him returning to the KHL before that happens?
There generally isn't an expiration date on a European Assignment Clause though the starting effective time can vary.  It generally reads that if the player isn't in the NHL at a specific point in time, they can trigger the assignment.  Considering they brought Prokhorkin up on October 18th and have only played him twice since then, it's reasonably safe to infer that the initial trigger date was somewhere around October 18th.  Having a waiver-exempt player frequently sitting as a healthy scratch isn't ideal for anyone.  But as long as he's on the NHL roster, he can't force a reassignment.
It's clear that Todd McLellan isn't ready to trust him yet and that Prokhorkin wants nothing to do with playing in the AHL so there's a stalemate at play.  From an outside perspective, I think it would be worthwhile trying to give him the odd game here and there since he did enter the season as one of their more intriguing prospects.  Generally speaking, it makes sense to keep players fresh in case they're needed when injuries strike and let's face it, it's not as if the Kings are doing all that well in the first place as you alluded to.  As their expected selloff happens, that should create an opportunity for him but he's going to have to make a quick impact if he wants to lock down a regular role.
@CanuckJake16: Do 1st time players from the KHL fall under a different cap salary system, a cheaper option to sign "experienced" players under a tight cap???
The entry-level system is a little different for international-based players (not just those from the KHL).  While a non-European player would see his ELC eligibility expire at 25, any European that signs his first NHL contract at or before 27 is subject to a one-year ELC that is capped at a base salary of $925K before performance bonuses.  That's why Ilya Mikheyev in Toronto is capped at $925K while Vadim Shipachyov (who two years ago signed with Vegas at 30), was able to get a $4.5MM AAV though the deal ultimately came off the books when he 'retired' from the NHL two years ago today.
Every year, there are a handful of players that are signed with your idea in mind, someone that has a bit more experience than a prospect in the minors does but they're both subject to the same contract restrictions.  I think it's fair to suggest that a lot more haven't worked out than those that have.  Nonetheless, it's an interesting market inefficiency that some cap-strapped teams are likely going to try to continue to mine.  Of course, the top players may prefer to stay at home where their earning potential is higher and then try to come over when they're not subject to ELC restrictions.
sovietcanuckistanian: The Bruins (lack of) secondary scoring seems to be rearing its ugly head again. The pace the Perfection Line is on is nice but unsustainable. Krejci coming back is a start but do you think they have an internal candidate to plug/play and maybe alleviate some of their woes or do they have to look outside the organization for help? I only ask because Backes is on the IR for now and depending on his length of stay there they may need to explore getting actual help? Thoughts?
Secondary scoring in Boston has been a need for a while now which is why they've had to trade for help the last couple of trade deadlines.  Undoubtedly, they hope that younger players like Danton Heinen and Anders Bjork would be able to step up and that a full season from Charlie Coyle would help.  Those three have combined for a line of seven goals and six assists in 40 games which isn't what they were looking for.
They're not a team that's swimming in cap space and with the eventual return of Kevan Miller and John Moore, they're probably not going to want to make a move until those two get back and their cap situation (without LTIR) becomes a little more certain.  That means for the next little while at least, they'll be testing from within.
Zachary Senyshyn and Cameron Hughes have had recent looks.  I could see Jack Studnicka getting a chance as well before too long.  Peter Cehlarik is up now and while he hasn't produced much in the past during his various stints, he should get a bit of a longer leash to work with.  At the end of the day, I think they'll be active on the trade front for that extra scoring help but that probably won't be for another couple of months.  Until then, they'll be rotating through internal candidates unless one of them takes the opportunity and runs with it.
Photo courtesy of USA Today Sports Images.