While the Senators worked quickly to sign their top potential restricted free agent when they signed defenseman Thomas Chabot to the richest deal in team history, it doesn't appear as if they're anywhere close to signing one of their top pending UFA's.  Jean-Gabriel Pageau told reporters, including TSN's Ian Mendes, that there have been no talks regarding a potential contract extension.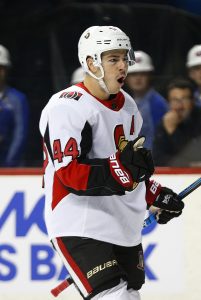 The 26-year-old is off to a very strong start offensively with seven goals and 11 points through his first 15 games, a pace that would have him surpass his previous career highs by a significant margin.  That would certainly bode well for his negotiating leverage and considering the run he's on right now, waiting for a little while certainly makes sense for GM Pierre Dorion.
The big question here (and is one that will apply to all of their impact UFAs) is how willing are they to stick around a rebuilding process?  While Ottawa is certainly showing that their future should be brighter than their present record, not everyone will be willing to overlook the potential for another year or two of struggles before they emerge.  Pageau's comments didn't provide any sort of indication about whether he would or wouldn't be willing to do so.
I'm trying to take day-to-day right now. I'm a Senator. I'm going day-to-day, trying to get better.  That's not something I can control and I'm not focusing on right now.
There are a couple of other factors at play.  Colin White has been signed to a long-term deal already.  They still have high hopes for Logan Brown as well while Chris Tierney is a restricted free agent this summer and will be looking for a raise on his $2.975MM qualifying offer.  Filip Chlapik and Josh Norris are among the prospects that will be vying for spots down the middle before too much longer.  There's a case to be made that none of those players will be number one centers (nor will Pageau) so with the supporting cast being in place, is there a spot long-term for Pageau?
The other one will be money.  Pageau's cap hit checks in at $3.1MM and it's safe to say he'll be looking for a raise as well, especially given his offensive output in the early going.  Does a long-term richer deal for him fit in with their salary structure moving forward?
If the answer is yes, expect talks to start over the coming weeks with a goal towards getting something done by the trade deadline.  If not, expect Pageau to be among the players that are heavily discussed as trade options for contenders as he'll likely be one of the top centers that could find themselves available over the next three months.
Photo courtesy of USA Today Sports Images.