The St. Louis Blues have announced that star forward Vladimir Tarasenko needs shoulder surgery and will be out for at least five months. He will be re-evaluated at that time, though it means he will miss the vast majority of the remainder of the regular season. Tarasenko will be placed on long-term injured reserve.
This news is absolutely disastrous for the Blues, who are trying to defend their Stanley Cup championship but have already struggled with some inconsistency early on. The team is off to a 6-3-3 start, but will now have to continue without one of their best offensive weapons for much of the season.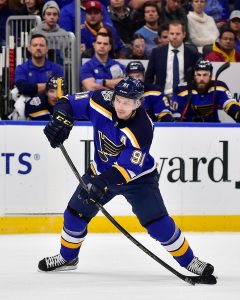 Tarasenko, 27, was off to a great start with ten points in nine games before he was forced out of his tenth early on. The sniper had potted at least 33 goals in each of the last five seasons and was a huge part of the Blues' powerplay. All of that production will now have to be replaced somehow, though if anyone has the depth to accomplish that it might be the Blues.
Not only does the team already have names like Alex Steen and Tyler Bozak playing smaller roles than they have in the past, but young forwards like Robert Thomas, Jordan Kyrou and Klim Kostin could be ready to make bigger impacts. Though Kyrou has dealt with his own injury troubles, he was recently loaned back to the AHL's Chicago Wolves and should be approaching a return at some point soon.
There's obviously no one player that can replace Tarasenko immediately, but given that he'll be out for almost the entire season the Blues will actually gain the ability to acquire someone if they decide to go down that route. Placing his $7.5MM cap hit on long-term injured reserve will open up some financial flexibility that could lead to them being trade deadline shoppers. That is of course if they decide to try and add instead of sell, given that captain Alex Pietrangelo is still scheduled to become an unrestricted free agent at the end of the year.
Hopefully the team will be able to stay afloat during Tarasenko's absence and still look like Stanley Cup contenders when he is able to return, which could be just in time for the playoffs given this early timeline.
Photo courtesy of USA Today Sports Images