As was the case for many Los Angeles players, 2018-19 was a year to forget for goaltender Jonathan Quick.  The team struggled to score and some poor play from Quick and the defense meant that they had trouble keeping the puck out of their own net.  The end result was Quick posting career worsts in goals-against average (3.38) and save percentage (.888).  For comparison, his previous high in GAA was 2.54 (2009-10) while his lowest SV% was .902 (the lockout-shortened 2012-13 campaign).  To call his numbers a substantial drop off would be an understatement.
The 33-year-old is signed through 2022-23 with a $5.8MM AAV.  While it's notable that his salary dips sharply after this season (he'll receive $7MM this year and $9MM over the final three seasons combined), that cap hit is still significant.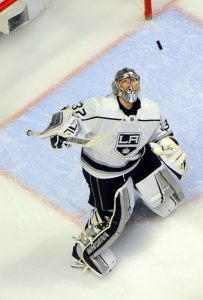 Accordingly, Quick's performance and contract made finding a viable trade all but impossible for GM Rob Blake to find over the summer.  Instead, he chose the longer and smarter play which was to hold off on a swap over the summer with the hopes that a new coach and a fresh start to the 2019-20 campaign would get him back on track.
The season is only a few weeks old but the early results haven't been promising.  Through his first three starts, he has posted a 6.43 GAA with a .793 SV%.  It's safe to infer that he's not helping his trade value any with a performance like that, even with the legitimate qualifier of a small sample size.
On top of that, the Kings have a younger backup in Jack Campbell that is making a case for more playing time.  Considering that Los Angeles appears to be a team that's slowly heading towards a rebuild, giving him more playing time makes sense.  Even if they don't want to do that and see themselves as a playoff team, giving Campbell more playing time also makes sense based on how the two are playing.
In addition, with Cal Petersen signed for two more years after this one and having shown some promise in his limited action last season, it's understandable to think that they're going to want him back in the NHL at some point.  The fact that both 2020-21 and 2021-22 are one-way contracts further cements that.
But how do the Kings find a way to make that happen?  If a trade doesn't present itself, a buyout is always an option but it's far from an ideal one.   Doing so would yield a $3.3MM cap hit in 2020-21, $3.8MM in 2021-22, $4.3MM in 2022-23, and $1MM from 2023-24 through 2025-26.  The price tag is higher than the standard buyout cost due to the front-loaded nature of the contract.  Considering they already have Dion Phaneuf's buyout on the books for three more years (including a cost of more than $4MM next season), it's reasonable to think that this isn't a route they'd like to take.
Instead, it appears as if they'll have to continue to wait this out and hope that Quick turns things around once he gets an opportunity to get back in the lineup and build from there.  It is only three games into his season coming off a summer where not making a trade seemed like the prudent move so patience is still the right play here for now.  However, if Quick struggles over the next little while, the focus may have to shift towards simply trying to get out of the contract in which case the question becomes is taking another bad deal better than a buyout.  That would be quite the rapid fall from grace for a player that was a core performer just two years ago.  It's not a route that they want to take but it looks a lot more realistic than it did just last season.
Photo courtesy of USA Today Sports Images.