Topics in this edition of the mailbag include San Jose's goaltending situation, Minnesota's veterans, Buffalo's blueline, salary cap projections, early-season surprises, and whether or not some notable trades could be on the horizon.
JDGoat: Will San Jose have to look at an upgrade in net or are they going to be forced to stick with Jones?
I think they'd like to look for an upgrade between the pipes but they're not really in a position to do from a financial standpoint.  With less than $1MM in cap room, they'd basically be forced to try to match money in any trade they make and finding a team that's willing to part with a goaltender that's an upgrade on Martin Jones that makes close to the same money is going to be tricky to put it lightly.
Instead, their upgrade may have to come in the form of a replacement goalie for Aaron Dell.  Technically, they were looking for that last season and one never really came to fruition.  However, with Dell being in the final year of his deal with a more manageable $1.9MM AAV (compared to $6MM for Jones), that would be an easier move to make.  They wouldn't be looking at getting someone that could realistically push for the starting role at that price tag (his cap hit plus some of their remaining room) but an upgrade there might be worth a few points in the standings over the course of the season if they find a swap sooner than later.
Generally speaking, unless they find a way to shed a sizable contract without taking as big of one back, GM Doug Wilson is going to be forced to look for marginal upgrades this season.  That's not particularly exciting compared to a year ago but with their cap situation being what it is, it's all they can really do.
jb10000lakes: Odds that one, or both Suter and Parise forgo their No Trade clauses to get out of Minny (these next couple years are going to be ugly), and how much would the Wild be willing to eat for them to do so?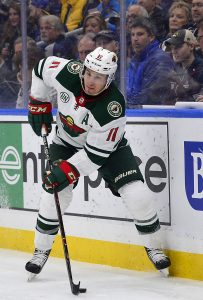 Considering Zach Parise has already said that he's not looking to be part of a rebuilding process, I'd put the odds of him being willing to waive as quite high.  However, it's not quite that simple.  Is new GM Bill Guerin going to be willing to retain a sizable portion of his contract plus assume the risk of salary cap recapture if Parise opts to not play the final few years of his heavily back-diving contract?  Over the final three years of his deal, his salary is a combined $4MM so the recapture potential is high for Minnesota and non-existent for the acquiring team.  If you have to sell low and assume the risk on the back end of his contract as well, you might be better off keeping him.  Now, if Parise rebounds and boosts his trade value to the point where they get some quality picks or young players for him, then a move is more palatable.
Ryan Suter is a bit of a different case.  I don't sense that their desire to trade him would be all that high unless he wants to waive his NTC.  I suspect the odds of him doing so would be a bit lower than Parise as he'll still be playing a premium role in a rebuild.  I still don't think they would need to retain anything to get value in return though.  Quality defensemen are hard to find and while a $7.538MM AAV will be tough to stomach in the final few years of his deal, he still has several above-average seasons left in him.  If Minnesota has to retain anything and assume the same recapture risk as Parise, it wouldn't be a great move for them unless doing so was to bring back a high-end young talent.
@djay6: Could we see the Sabres moving a D-man?
At some point, yes, a move is likely.  For me, I'd hold off on doing so though until Brandon Montour comes back and gets into game shape.  Yes, that might push Henri Jokiharju to the press box for a few games which isn't ideal for a youngster but it would be the safe play.  See how Montour fares with Rasmus Ristolainen and Colin Miller on the right side and then figure out which one is the most expendable.  It's starting to seem like the odds of Ristolainen being the one to move are decreasing and speculatively, I wonder if Montour could be the one to go now.
The market for him would be strong considering it took a first-round pick and Brendan Guhle to get him back in February so a similar price tag would be expected here.  He's also due for a sizable raise over the offseason at the time where from a team perspective, a long-term pact that buys out some UFA years would be desirable.  Montour isn't likely to have a big enough role as long as Ristolainen plays heavy minutes and Miller logs more than what most third pairing options are so he probably would hesitate to sign long-term with Buffalo for now.
Of course, if another defenseman goes down with an injury over the next few weeks, that could all change in a flash.
Gerald Arrington: Gavin, is there a list of by years that have the NHL Salary Cap figures increase, have messaged before as I had seen it on a story regarding the Seattle Expansion about 3-4 months ago, which indicated that salary cap will rise when they enter league, I believe you wrote the story, maybe wrong, with it at $81.5 million , and rise each year till Seattle it will be $85 million per team ,what about the years in between , by listing by year. Thanks!
First, here's the salary cap history by year:
2005-06: $39MM
2006-07: $44MM
2007-08: $50.3MM
2008-09: $56.7MM
2009-10: $56.8MM
2010-11: $94.3MM
2011-12: $64.3MM
2012-13: $60MM ($70.2MM pro-rated)
2013-14: $64.3MM
2014-15: $69MM
2015-16: $71.4MM
2016-17: $73MM
2017-18: $75MM
2018-19: $79.5MM
2019-20: $81.5MM
As you can see, the changes have been all over the board since it was instituted.  There's no fixed plan in place that says the cap will be $85MM or any fixed amount by the time Seattle reaches the NHL.  It all depends on the increase in hockey related revenues (commonly referred to as HRR) and how much, if any, of the 5% inflator the NHLPA decides to use.  While at the beginning, using the maximum was common (which is why there was a big jump in some of the early years), the high escrow rate has caused them to lessen that in an effort to get that under control.  Personally, I'd be surprised if the Upper Limit goes up by more than $2MM for 2020-21.  It'll probably be a similar increase the following year as well so yes, an $85MM salary cap is probably a reasonable ballpark projection at this point by the time Seattle debuts but nothing for that season has been finalized just yet.
acarneglia: Teams that are the biggest surprises/disappointments in each division?
I've tackled some prediction questions like this in previous mailbags so rather than reiterate those thoughts here, instead, here's some commentary on the surprises and disappointments over the first few weeks of the year.
Atlantic: Buffalo has been a pleasant surprise early on.  Yes, they had a stretch of games last season before completely collapsing and it could happen again.  However, I think they're better up front and on the back end while having a better coach.  Perhaps they're not a top-three team but they could very well be in the Wild Card race which didn't seem likely just a few weeks ago.  There really hasn't been a big disappointment just yet.  Florida has underwhelmed a bit but with a new coach (and therefore new system) in place, that's not entirely shocking.
Metropolitan: Columbus has been more competitive than I expected early on.  I don't expect them to continue to hover around the playoff picture as the season progresses but they've been a bit of a surprise so far.  On the flip side, New Jersey was my pick to surprise in terms of pushing for a playoff spot but they have floundered so far.
Central: I thought Colorado would get off to a strong start but I didn't think they'd be this strong out of the gate.  There's plenty of cause for optimism there.  Dallas and Minnesota have both been big disappointments though.  The Stars were a trendy pick to be a sneaky contender and with good reason following their offseason moves but they have just one win so far.  Meanwhile, I figured the Wild would dip a bit in the standings but they would at least still be competitively mediocre most nights.  But instead, they're getting completely outclassed routinely.
Pacific: No one could have seen Edmonton's hot start coming, not even the Oilers.  I question the sustainability of it but after a couple of disappointing years, it's good to see some positives from them early on.  Anaheim's quick start is arguably even more of a surprise (and happens to be led by one of Edmonton's old coaches).  I'm not sold on that holding up but John Gibson can really carry a team.  San Jose's slow start is a surprise on the other side of the coin.  That team has a lot more talent than their record early on and while I expect them to turn it around, they could be soon reaching the point that the Kings did a year ago where the drop off from contender to the fringes happens quicker than expected.
JDGoat: Do you think there's an early struggling team that might try and make a "desperation" move to try and get things going?
Teams will undoubtedly try – I'm sure several are already actively seeking trades.  (I'd have Dallas and New Jersey while Pittsburgh is known to want to move a defenseman though that wouldn't qualify as a desperation move.)  However, there's a reason that the trade market is generally silent at this point of the season.  Most teams want to see what they have, what they need, and what they can afford to part with.  They also want to evaluate early performances in the AHL; are some players ready for a full-time promotion?  It's a little too early to make that call when the minor league season is only a few weeks old.
The other issue is the salary cap.  A lot of teams are tight to the Upper Limit so they lack the cap room to make any substantial changes.  Those teams need to make 'money in, money out' deals and those are difficult to make.  There may be a tweak trade or two in the coming weeks but the bigger deals that would qualify as a shakeup are still a ways away from happening.
Photo courtesy of USA Today Sports Images.