If there is one thing that Nashville Predators GM David Poile is known for other than his penchant for blockbuster trades, it's getting his core players signed to long-term extensions at reasonable prices. The Predators have locked up names like Ryan Johansen, Filip Forsberg, Viktor Arvidsson, Kyle Turris, Mattias Ekholm, Ryan Ellis and others to long deals over the past several years, and Roman Josi seemed destined to be next. The Predators' captain is in the final season of his seven-year deal signed in 2013 that carries a ludicrously-low cap hit of just $4MM (another example of Poile's work) and is scheduled to become an unrestricted free agent in 2020.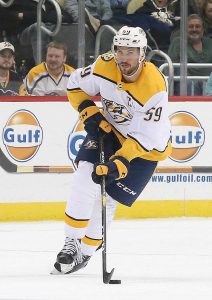 An extension for Josi seems inevitable, given his role and history with the team, especially after the Predators moved P.K. Subban out of town. Elliotte Friedman of Sportsnet writes in his latest 31 Thoughts column however that the negotiation has "hit a snag" and that "there is surprise it isn't done yet." Josi has been one of the most reliable two-way defenders in the league for the last several seasons, receiving Norris Trophy votes regularly. In fact, the 29-year old has finished no lower than 11th in voting in each of the past five years though he has yet to actually be named a finalist.
Not only has the league recognized him, but it is obvious how the Predators' coaching staff feels about Josi's ability. Since the start of the 2013-14 season he has logged an average of more than 25 minutes of ice time per game, and even more than that in the playoffs.
Still, with any extension negotiation there are risks involved. Josi will be 30 by the time next season begins and could very well be looking to become one of the highest-paid defensemen in the league. The Predators have a huge amount of money coming off the books next season thanks to the expiring contracts of Mikael Granlund, Craig Smith and others, but also have to consider potential future extensions for Ekholm, Forsberg, Dante Fabbro and young goaltender Juuse Saros. There is also the fact that Poile almost never gives out signing bonuses or no-trade clauses, though both of those rules were bent by Matt Duchene in the recent free agent period.
Obviously it is impossible to know exactly where the "snag" is at this point, but as Friedman points out it is surprising to see the Predators fail to reach an agreement yet with Josi. His case will be one to watch throughout the year as he would be one of the very top free agents available in 2020, though an extension with Nashville still seems the most likely conclusion.