The Predators presently have nine players on their active roster that are slated to become unrestricted free agents at the end of the season.  Three of those players – defenseman Roman Josi plus wingers Mikael Granlund and Craig Smith – are impact pieces for Nashville but as Craig Custance of The Athletic reports (subscription required), talks about extensions have been limited thus far.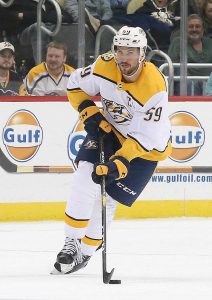 Understandably, their primary focus is getting a deal done with Josi, their captain.  He's currently playing on one of the best bargain contracts in the league with a $4MM cap charge which is well under market value for someone that has recorded at least 40 points and averaged more than 24 minutes per night over each of the last six seasons.  He's off to a flying start in 2019-20 as well with 10 points in as many games while once again logging more than 24 minutes of ice time per contest.  While the 29-year-old has suggested in the past that he's open to taking a bit of a discount to stay with the Predators, he should still at least be doubling his current AAV on a new deal.  There was some discussion going back to the offseason but it doesn't seem as if a lot of progress was made.
Granlund is in his first full season with Nashville and that in itself is stalling contract talks as both sides are still evaluating the fit.  He wasn't overly productive after being acquired from Minnesota at the deadline last season (just two goals and five assists in 23 games between the regular season and playoffs) and is off to a slow start this season as well with two goals and two helpers in ten games.  However, he isn't far removed from back-to-back 67-plus point seasons in 2016-17 and 2017-18 and his ability to play center (despite being used predominantly on the wing with the Predators) makes him one of the more prominent forwards that will be available.  Custance suggests that if the team can find a way to get out of Kyle Turris' contract ($6MM through 2023-24), that might help get talks for Granlund, who carries a $5.75MM AAV, going.
As for Smith, his performance over the years has been a bit more erratic.  There are times where he looks like a legitimate top liner but others where he has produced at the level of a third liner.  He's not off to a great start this season either with just a goal and an assist.  Nonetheless, with five seasons of 20 goals or more under his belt, he should be in line for a raise on his current $4.25MM cap hit.  Custance mentions that Smith loves it in Nashville and would likely be willing to sign for under market value to stay there but at this time, both sides appear to be okay with letting the season play out and evaluate things at the end of the season.
Other pending unrestricted free agents in Nashville include wingers Auston Watson, Miikka Salomaki, and Rocco Grimaldi as well as blueliners Dan Hamhuis, Matt Irwin, and Yannick Weber.  With that many players needing new contracts, GM David Poile will certainly have his work cut out for him over the coming months.
Photo courtesy of USA Today Sports Images.