Navigating the salary cap is one of the more important tasks for any GM. Teams that can avert total cap chaos by walking the tightrope of inking players to deals that match their value (or compensate for future value without breaking the bank) remain successful. Those that don't see struggles and front office changes.
PHR will look at every NHL team and give a thorough look at their cap situation heading into the 2019-20 season. This will focus more on those players who are integral parts of the roster versus those who may find themselves shuttling between the AHL and NHL. All cap figures are courtesy of CapFriendly.
San Jose Sharks
Current Cap Hit: $76,867,417 (under the $81.5MM Upper Limit)
Entry-Level Contracts
None that are likely to land a full-time spot in the lineup.
One Year Remaining, Non-Entry-Level
F Jonny Brodzinski ($700K, UFA)
G Aaron Dell ($1.9MM, UFA)
D Brenden Dillon ($3.27MM, UFA)
D Tim Heed ($960K, UFA)
F Melker Karlsson ($2MM, UFA)
F Kevin Labanc ($1MM, RFA)
D Dalton Prout ($800K, UFA)
F Lukas Radil ($700K, UFA)
D Radim Simek ($675K, UFA)
Labanc's contract came as one of the big surprises of the offseason.  A forward that puts up 56 points signs quickly for only $1MM?  That will raise some eyebrows.  The idea behind the deal is that it gives the Sharks a bit more short-term flexibility while also opening up the ability to get to salary arbitration where another season like this one could put him into the $4MM range rather quickly.  Karlsson has been a serviceable fourth liner but barring a big improvement offensively, he'll probably be looking at a pay cut as $2MM for someone in that role is a bit pricey, especially for a team like the Sharks.  Radil did alright in the second half of the season while Brodzinski will look to bounce back from an injury-plagued year.  Given their cap structure, they'll be re-signed for a similar rate a year from now or replaced by someone who'll take that amount.
Dillon has been a speculative trade candidate for a while as someone that's a bit expensive to fill the role he provides.  He's a capable third pairing player but with the top end of their salary structure, they'll be looking to fill that with someone cheaper.  Heed likely left a bit of money on the table when he re-signed but he'll have a shot at a full-time role next season.  Locking that down would have him in line for a nice raise…even if it has to come from somewhere else.  Simek will also be given a chance to play regular minutes, something that wasn't the case last year.  He'll be in line for a higher cap hit no matter what as he's one of the few players with an AAV below the Upper Limit.  Meanwhile, Prout is a more of a roster filler or a placeholder and whoever has that spot a year or two from now should slot in at a similar rate.
Dell hasn't been able to live up to his performance from his rookie year when he was a high-end backup.  Now, he's more towards the back end of that scale and is a bit expensive for that role which is why he has also been in trade speculation dating back to last season.  It's likely that he'll be replaced by someone cheaper for 2020-21 and beyond.
Two Years Remaining
F Barclay Goodrow ($925K, UFA)
F Marcus Sorensen ($1.5MM, UFA)
After not doing a whole lot over his first two seasons, Sorensen emerged as a reliable secondary scorer last season as he notched 17 goals.  That earned him a nice raise while keeping him affordable for a bottom-six role which is where he'll likely remain.  If he can keep that type of production up, he'll be one of the better bargains that they have.  Goodrow is a prototypical fourth liner whose physicality is one of his calling cards.  That will limit his earning potential unless he can find a way to produce more; his career-high in goals in a single season is seven.
Three Years Remaining
F Tomas Hertl ($5.625MM, UFA)
Hertl's deal looked a little expensive this time a year ago.  While it bought out some UFA time, he still had yet to reach 50 points.  However, those thoughts no longer exist after a career season that saw him finish second on the team in scoring while establishing himself as a top liner.  What seemed a little questionable a year ago now appears to be quite team-friendly.
Four Or More Years Remaining
D Brent Burns ($8MM through 2024-25)
F Logan Couture ($8MM through 2026-27)
F Evander Kane ($7MM through 2024-25)
D Erik Karlsson ($11.5MM through 2026-27)
G Martin Jones ($5.75MM through 2023-24)
F Timo Meier ($6MM through 2022-23, RFA at expiry)
D Marc-Edouard Vlasic ($7MM through 2025-26)
Some teams have built their team towards having flexibility in the future.  San Jose is not one of them as these seven will count for $53.25MM per season for at least four more years.
Couture has emerged as a capable top line center and with Joe Pavelski out of the picture, he's likely going to stay in that role for the foreseeable future.  He's coming off of a career season and is in the prime of his career so he should be able to provide a strong return on this contract for a while.  Kane didn't quite produce at the same level he did after being acquired from Buffalo over the final two months of 2017-18 but he nonetheless had his best season since 2011-12.  There is certainly some risk with his contract given how up and down Kane has been over his career but the reward potential is certainly there as well.  Meier's contract is interesting.  It keeps him a restricted free agent at the end of it but it comes with a $10MM qualifying offer at the end of it.  That means that the $53.25MM price tag will be going a lot higher four years from now.  In the meantime, the winger will be looking to build off his breakout 30-goal campaign.  If he does, this will certainly be well below market value.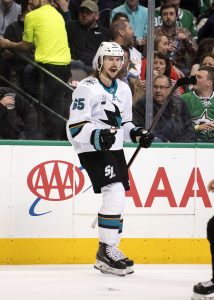 Karlsson's contract is in a league of its own.  Literally.  It's the richest contract ever given to a defenseman and there is some considerable risk/reward at play.  Karlsson has dealt with considerable injury issues in recent years including some recurring groin trouble last season.  As a result, he had just three goals last year.  On the surface, that seems like quite the overpayment.  On the other hand, he's still a dangerous playmaker and with some rest over the offseason, he should be ready to go and get closer to the 70 points he has put up four times in his career already.  The back years are going to be rough but Karlsson returning to form should give the Sharks some value from this deal.  If it doesn't happen though, then this could very well become the worst contract in the league in a hurry.
Burns' contract looked expensive when it was signed back in 2016 but the Karlsson and Drew Doughty deals make it look a little more reasonable now.  He certainly provided a great return in 2018-19 as he led the team in scoring with 83 points.  However, he's 34 now and there are six years left on the deal.  Like Karlsson, the back few years could be painful.  Vlasic is a reliable defensive defender but doesn't bring a lot offensively to the table.  That makes his price tag on the high side but given the success he has had with Burns, it's understandable why they wanted to commit to him long-term as well.
Jones had a particularly rough season last year.  After playing at a league-average level (even a little bit above at times) for the previous three seasons, his performance was below average for a backup last year.  With five years left on his deal, there is no trade market for Jones so the Sharks will have to wait it out.  If he doesn't rebound though, this could also be somewhat of an anchor although it isn't as buyout-prohibitive as some of their other contracts.
Buyouts
D Paul Martin ($1.417MM in 2019-20)
Retained Salary Transactions
None
Still To Sign
None
Best Value: Hertl
Worst Value: Karlsson
Looking Ahead
With more than $4MM to work with, GM Doug Wilson has some flexibility to work with although most of that is likely to go to Joe Thornton while Patrick Marleau wants to sign there as well.  Both would be one-year deals which gives them the option to put some bonuses in to retain some ability for in-season movement.
However, with the big tickets they have on the books long-term, San Jose is going to be battling cap issues for the foreseeable future.  They'll be filling out their roster with entry-level deals and affordable veterans and players in that middle tier will eventually be plying their trade elsewhere.
Photo courtesy of USA Today Sports Images.