Navigating the salary cap is one of the more important tasks for any GM. Teams that can avert total cap chaos by walking the tightrope of inking players to deals that match their value (or compensate for future value without breaking the bank) remain successful. Those that don't see struggles and front office changes.
PHR will look at every NHL team and give a thorough look at their cap situation heading into the 2019-20 season. This will focus more on those players who are integral parts of the roster versus those who may find themselves shuttling between the AHL and NHL. All cap figures are courtesy of CapFriendly.
Philadelphia Flyers
Current Cap Hit: $68,082,579 (under the $81.5MM Upper Limit)
Entry-Level Contracts
G Carter Hart (two years, $731K)
F Oskar Lindblom (one year, $925K)
D Philippe Myers (one year, $679K)
F Nolan Patrick (one year, $925K)
Potential Bonuses:
Hart: $132.5K
Lindblom: $212.5K
Patrick: $2.65MM
Patrick was considered the top prospect of the 2017 draft class for most of that season before ultimately going second overall.  His sophomore year largely mirrored his rookie campaign which was okay but not quite up to the expectations of someone going that high.  He's likely going to spend a lot of time on the third line again in 2019-20 which makes him a good candidate for a short-term second contract instead of the long-term pact many top picks get.  Lindblom quietly put up 17 goals last season despite not averaging 14 minutes per night with most of those coming at even strength.  If he can get to the 20-goal mark, he could jump into the $2.5MM or more range on a short-term pact next summer.
Myers has been a nice find as an undrafted free agent and got his first NHL action last season.  He has the skill set to be a regular which is why he's mentioned here but it's also possible that his waiver exemption will work against him and he'll find himself in Lehigh Valley again.  On the surface, a bridge deal is probably on the horizon for him.
Hart could be the legitimate starting goaltender that the Flyers have been coveting for a long time.  He didn't look out of place in his first NHL action last season and the starting job is his to run with.  If he plays 50 or more games in each of the next two years, he could increase his salary tenfold with a long-term deal.  There is a lot of pressure on his shoulders already.
One Year Remaining, Non-Entry-Level
D Justin Braun ($3.8MM, UFA)
G Brian Elliott ($2MM, UFA)
D Robert Hagg ($1.15MM, RFA)
Braun was brought in to help stabilize the back end and eat some minutes which is something he should be able to do.  While he hasn't been a big point producer over the years, he has logged at least 20 minutes a night in six straight seasons.  That will garner some interest on the open market but because of the limited offensive upside and age (32), his next contract shouldn't cost much more than this one.  Hagg was a regular last season, providing plenty of physicality from the third pairing.  However, with their moves this summer, he's someone that probably won't be seeing his role increase much.  He's already on his bridge deal but it'd be tough to see either side want to commit to a long-term pact next summer if this winds up happening.
Elliott isn't the number one netminder anymore but he's a good fit for the veteran mentor role that can take a bigger workload if needed.  For him, simply staying healthy is the biggest challenge.  That will ultimately determine if he can get a multi-year deal and a raise as a 35-plus player next summer or if he'll be going year-to-year from here on out.
Two Years Remaining
F Scott Laughton ($2.3MM, UFA)
D Samuel Morin ($700K, RFA)
D Matt Niskanen ($5.75MM, UFA)
F Michael Raffl ($1.6MM, UFA)
D Travis Sanheim ($3.25MM, RFA)
Laughton made the most of his extra ice time last season to reach a new career-high in points (32).  However, there may not be a lot of offensive progression left (especially with their depth down the middle) which will limit his earning upside.  Third line pivots that can win draws at an above-average rate like he does will still be coveted two years from now but a big raise probably isn't in his future.  Instead, he'll probably have to settle for a small increase.  Raffl wasn't able to get even that as he took more than a 30% pay cut to stay with the Flyers.  He's pegged to be a depth winger once again which means he's probably looking at another cut two years from now.
Sanheim's first full NHL season was a strong one as he established himself as a core piece for the long-term.  However, GM Chuck Fletcher opted to go for a bridge contract back in June, presumably to free up some funds for their other acquisitions as well as the players that still need new deals.  It will cost a lot more to sign him two summers from now though, especially with arbitration rights.  Niskanen's acquisition was a little puzzling given that his offensive output has dipped in recent years which makes his deal a bit expensive.  (And they retained salary on the player going the other way.)  However, the Flyers believe he can rebound and, like Braun, log some heavy minutes.  That said, his next deal won't come close to this one.  Morin missed most of last season with a knee injury, one that the team knew about when they gave him this contract.  However, the 24-year-old gets to benefit from some extra security, albeit at a league-minimum rate.  He'll push to hold down a full-time spot on the roster and is waiver-eligible; how he fares in accomplishing that role will go a long way towards determining his next contract.
Three Years Remaining
F Sean Couturier ($4.33MM, UFA)
F Claude Giroux ($8.275MM, UFA)
Two years ago, Giroux was struggling and his deal looked like a big overpayment.  However, a simple position change to the wing proved to be the remedy as he put up 102 points in 2017-18 and followed that up with 85 last season.  That's a pretty good return on their biggest contract and if he can maintain that level of production, he could still have one sizable payday left.  Couturier has also gone from an underachiever two years ago to a top-line center that's making what some third line pivots make.  He could be looking at doubling his current AAV three years from now as things stand.
Four Or More Years Remaining
D Shayne Gostisbehere ($4.5MM through 2023-24)
F Kevin Hayes ($7.143MM through 2025-26)
F James van Riemsdyk ($7MM through 2023-24)
F Jakub Voracek ($8.25MM through 2024-25)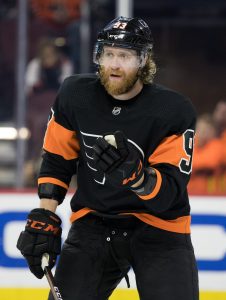 While Voracek has had one big season, it's safe to say that Philadelphia hasn't got quite the bang for their buck when they signed him back in 2015.  Since then, he has surpassed the 70-point mark only once and has averaged 61 points per season in the other three years.  That's not a terrible output by any stretch but for someone that was made one of the higher-paid wingers in the league at the time, it's fair to say he has underachieved a little bit.  With five years left and a deal that is a little bit buyout-prohibitive given the signing bonus structure, this is one that could sting in a few years.
Hayes is coming off a career year offensively but it was also the first time that he had at least 50 points in a season which makes this deal carry some risk.  He's a good fit between Couturier on the top line and Patrick on the third for now but when Patrick eventually moves up, he'll either become an expensive winger or a high-priced bottom six option.  The acquisition will certainly help them a lot in the near future but there should be concerns about the long-term with this one as well.  Van Riemsdyk's deal was considered to be a bit of an overpay last summer but at the same time, it came with less term than many expected so the trade-off is reasonable.  Injuries prevented him from getting back to the 30-goal mark, a target he'll need to reach for this one to not be considered a bad contract as well.
Gostisbehere is coming off a tough year offensively, relatively speaking.  37 points is still pretty good but it's well off the 65 he had the year before.  As a result, he has been in trade speculation this offseason but they'd be selling low if they moved him now.  His deal is also still one of the better bargains on the roster as a top-four defender that's capable of putting up points would cost a lot more on the open market.
Buyouts
G Ilya Bryzgalov ($1.643MM through 2026-27, cap-exempt as a post-CBA compliance buyout)
D Andrew MacDonald ($1.167MM in 2019-20, $1.917MM in 2020-21)
D David Schlemko ($900K in 2019-20, $600K in 2020-21)
Retained Salary Transactions
D Radko Gudas ($1.005MM in 2019-20)
Still To Sign
F Travis Konecny
D Ivan Provorov
Konecny didn't have a big jump in production last season but hit 24 goals for the second straight year which certainly helps his case.  Recent speculation has his price tag in the $4MM range but that would likely be for a shorter-term pact.
As for Provorov, his 2018-19 campaign was one to forget.  While he logged over 25 minutes a night, his effectiveness dropped as did his output.  As a result, instead of being a lock for a long-term contract, a bridge deal is looking like the likeliest outcome with something in the $5MM range being floated as a potential price point.
Best Value: Couturier
Worst Value: Hayes
Looking Ahead
While the Flyers have lots of cap space now, that will change once Konecny and Provorov sign although they should still have some wiggle room for in-season moves.  That's not likely to be the case for long though.  Their young core players are all on shorter-term deals (or soon will be) and while that gives them flexibility now, it will hurt them later.  That will be happening at the time where some of the players on long-term contracts will likely start to decline as well.  Rough times will be on the horizon but that's just par for the course for a team that not that long ago was basically right against the Upper Limit on a seemingly annual basis.
Photo courtesy of USA Today Sports Images.