Navigating the salary cap is one of the more important tasks for any GM. Teams that can avert total cap chaos by walking the tightrope of inking players to deals that match their value (or compensate for future value without breaking the bank) remain successful. Those that don't see struggles and front office changes.
PHR will look at every NHL team and give a thorough look at their cap situation heading into the 2019-20 season. This will focus more on those players who are integral parts of the roster versus those who may find themselves shuttling between the AHL and NHL. All cap figures are courtesy of CapFriendly.
New Jersey Devils
Current Cap Hit: $72,788,333 (under the $81.5MM Upper Limit)
Entry-Level Contracts
F Mackenzie Blackwood (one year, $698K)
F Jesper Bratt (one year, $749K)
F Nico Hischier (one year, $925K)
F Jack Hughes (three years, $925K)
Potential Bonuses:
Blackwood: $132.5K
Hischier: $2.85MM
Hughes: $2.85MM
Hischier has yet to emerge as a legitimate top line star but there is certainly cause for optimism that he will take a step forward this season.  He may not be able to get to the top of the RFA class a season from now but a long-term pact would undoubtedly make him one of the highest-paid players on the team.  It's too early to project what a second contract for Hughes would look like but he's expected to become a star in short order so his next deal will likely be quite an expensive one.  Bratt very quietly nearly duplicated his rookie season production despite playing in 21 fewer games.  A long-term deal isn't likely given who else they need to sign to big-ticket contracts but a decent season from him could have a bridge pact in the $2.5MM or more range.
Blackwood didn't have a great year in the minors but more than held his own in his first action at the NHL level.  He'll push for more minutes than a typical backup may get but he's a good candidate for a bridge contract next summer.
One Year Remaining, Non-Entry-Level
D Andy Greene ($5MM, UFA)
F Taylor Hall ($6MM, UFA)
F John Hayden ($750K, RFA)
D Mirco Mueller ($1.4MM, RFA)
F Kevin Rooney ($700K, UFA)
F Wayne Simmonds ($5MM, UFA)
D Sami Vatanen ($4.875MM, UFA)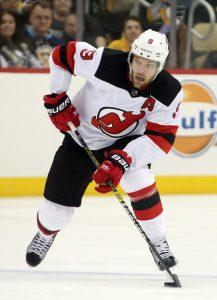 With all due respect to Hischier, Hall is far and away GM Ray Shero's top priority when it comes to players on expiring contracts.  Last season didn't go as well as his Hart Trophy campaign but he still averaged over a point per game in an injury-riddled campaign.  He is their franchise player and it's no coincidence that the team has been aggressive this summer in an effort to try to help entice him to stay.  No matter what, it will take a lot more than that alone to get him to sign on the dotted line.  Artemi Panarin set a new benchmark for wingers earlier this summer when he signed for over $11.6MM per season and Hall could certainly command a similar price tag.  The good news for the Devils is that not a lot of teams will be able to afford that and they'll be one of the teams that can.
Simmonds signed what would appear to be an inflated contract based on his performance last season but the one-year term makes it a worthwhile gamble for both sides.  If he rebounds, he'll position himself better for a multi-year deal a year from now and the Devils will get a good return on their investment.  If not, it's an expiring contract whose money can be directed towards Hall and Hischier.  Hayden was brought in from Chicago this summer with the hope that he can push for a fourth line role which is similar to Rooney's situation.  Neither will likely land much bigger deals a year from now.
Vatanen hasn't really been able to ascend to a top role like they were hoping when they got him but he's still a strong presence in their top four.  His production has also dipped in recent years which won't help his value; instead of being a player that could plausibly eclipse the $6MM mark, he's probably going to check in a little lower than barring a big uptick in points.  Greene has been a fixture with New Jersey for more than a decade but he's clearly on the back nine of his career.  Assuming he hovers around the 20-minute mark once again, he could still command a two-year deal (despite being in a 35-plus situation) but it will have to come with some sort of small pay cut.  Mueller took some strides towards establishing himself as a regular last season but will still be in a battle for playing time.  How he fares will determine if a small raise is on the horizon or a non-tender because of his salary arbitration eligibility.
Two Years Remaining
D Connor Carrick ($1.5MM, UFA)
F Blake Coleman ($1.8MM, UFA)
F Nikita Gusev ($4.5MM, UFA)
F Kyle Palmieri ($4.65MM, UFA)
F Travis Zajac ($5.75MM, UFA)
Palmieri doesn't get a lot of attention but with four straight seasons of at least 24 goals, that will change when he hits the open market at 30. While teams are more hesitant to spend big on players that age, he should still easily be able to hit the $6MM mark or more depending on the term.  Zajac saw his production jump back into the mid-40's after an off year in 2017-18 but overall, he's a better fit on the third line than somewhere in the top six which makes this deal on the pricey side.  Gusev is going to be an interesting one to follow.  He was a terrific player in the KHL but this will be his first NHL action.  As a result, this could wind up being a bargain, a disaster, or pretty much anything in between.  Coleman has already made his three-year bridge deal a team-friendly one after a career-best 22 goals.  He's also a very physical player and power forwards with a scoring touch tend to get big contracts so he could be looking at a good raise two years from now.  Something similar to what Micheal Ferland got (four years at $3.5MM per year) is plausible.
Carrick got the opportunity to play big minutes down the stretch after being acquired and made the most of it.  It's likely he'll have a lesser role this season but even if he can hold down a spot on the third pairing, they should get a reasonable return on this deal.
Three Years Remaining
D Will Butcher ($3.733MM, UFA)
G Cory Schneider ($6MM, UFA)
D P.K. Subban ($9MM, UFA)
F Miles Wood ($2.75MM, RFA)
Wood's production dipped a bit last season despite a small uptick in ice time.  At 23, it's not a significant concern at this point but given the extra depth the team now has, his deal could become a bit expensive if he doesn't get back to his 2017-18 level.
Subban was brought in as a salary cap dump from Nashville but he instantly becomes New Jersey's top defender.  He's probably not a true number one option but he's the closest they've had in a while.  His price tag is on the expensive side (it was the richest deal for a blueliner until this coming season) but it's a justifiable price to pay to give their back end a boost.  Butcher's production dropped from 41 to 30 points last season and in the process, he may have cost himself a shot at a long-term deal.  Instead, the two sides went with a short-term pact.  If Butcher can establish himself as a consistent offensive threat, this could be a bargain for the Devils while paving the way for a much bigger payday three years from now.
Schneider is coming off a rocky season.  Thanks to struggles and hip issues, he went a year without a win and his contract was looking like a huge anchor.  However, he showed signs of improvements down the stretch and fared well at the World Championships which should give him another chance to be the starter next season.  His deal isn't the bargain it was when he was among the top goalies in the league not long ago but they can still get some value from it now.
Four Or More Years Remaining
D Damon Severson ($4.167MM through 2022-23)
This deal raised some eyebrows when it was signed a couple of years ago but Severson's performance last year makes it look like a team-friendly pact now.  He had a career season offensively with 39 points while logging over 22 minutes a night.  That type of production is worth a lot more on the open market than what he's getting.
Buyouts
F Mike Cammalleri ($1.667MM through 2020-21)
Retained Salary Transactions
None
Salary Cap Recapture
F Ilya Kovalchuk ($250K through 2024-25)
Still To Sign
Zacha continues to be somewhat of an enigma.  The production has been there in spurts but without much consistency.  That makes him a prime candidate for a one-year deal this summer, especially since he'll have arbitration eligibility next offseason.  At this stage, he probably won't get too much more than his qualifying offer which was just over $874K.
Best Value: Hall
Worst Value: Zajac
Looking Ahead
Even with their offseason spending, the Devils have plenty of salary cap flexibility for the upcoming season.  They may not be able to say that for 2020-21, however.  Hischier's next deal will be a big increase on his current cap hit while Hall, if they can re-sign him, will command a big raise.
Looking at the big picture, Shero has the team well-positioned with a lack of long-term commitments that should allow them to lock up their core youngsters without much concern and still leave some wiggle room.  That's a pretty good spot to be in as long as they can put that flexibility to good use, something they were able to do this summer but didn't accomplish in the previous few offseasons.
Photo courtesy of USA Today Sports Images.