Navigating the salary cap is one of the more important tasks for any GM. Teams that can avert total cap chaos by walking the tightrope of inking players to deals that match their value (or compensate for future value without breaking the bank) remain successful. Those that don't see struggles and front office changes.
PHR will look at every NHL team and give a thorough look at their cap situation heading into the 2019-20 season. This will focus more on those players who are integral parts of the roster versus those who may find themselves shuttling between the AHL and NHL. All cap figures are courtesy of CapFriendly.
Calgary Flames
Current Cap Hit: $73,743,375 (under the $81.5MM Upper Limit)
Entry-Level Contracts
D Rasmus Andersson (one year, $756K)
D Oliver Kylington (one year, $731K)
D Juuso Valimaki (two years, $894K)
Potential Bonuses
Andersson: $57.5K
Kylington: $82.5K
Valimaki: $450K
These three players project to be a big part of Calgary's back end in the near future but only Andersson has a full NHL season under his belt.  Accordingly, he'll likely wind up with the biggest second contract among the three but it shouldn't break the bank.  Valimaki, a 2017 first-rounder, probably has the most overall upside of the group but he still has to lock down a full-time NHL spot first.  Assuming they don't go and add a veteran depth piece.  There were questions surrounding Kylington going back to his draft year which caused him to slide but he has shown some NHL upside as well.  He'll also get a chance to push for a full-time spot this coming season.  At this stage, short-term post-ELC deals are likely on the horizon for all three.
One Year Remaining, Non-Entry-Level
D T.J. Brodie ($4.6504MM, UFA)
F Austin Czarnik ($1.25MM, UFA)
F Michael Frolik ($4.3MM, UFA)
D Travis Hamonic ($3.857MM, UFA)
F Mark Jankowski ($1.675MM, RFA)
G Cam Talbot ($2.75MM, UFA)
Frolik has been part of trade speculation for quite a while now after his agent opted to up the pressure on Calgary for a perceived lack of playing time.  While he hasn't really been able to live up to the offensive potential he showed as a youngster, he has still been an effective middle-six forward.  However, given what transpired last year plus their cap situation, he's a prime candidate to be dealt and won't be able to land similar money on his next deal.  Jankowski followed up his rookie year with a decent sophomore campaign as he set a new career-best in points despite playing less than 13 minutes a night.  Unless his role increases, another short-term pact (this time with arbitration rights) could be on the horizon next summer.  Czarnik was one of two Group VI UFAs that landed surprisingly rich deals in free agency last summer and like Matthew Peca in Montreal, this didn't really pan out well as Czarnik struggled to hold down a regular spot in the lineup and was frequently on the fourth line when he was in.  Unless he takes a step forward in 2019-20, he'll be in tough to match his current AAV.
Calgary was reported to be listening to offers on both Brodie and Hamonic earlier this summer.  It's not that they're not pleased with their play but rather facing the reality of their situation.  The odds of keeping both beyond this season are low.  The cost to sign both will be considerably higher than their current price tag and they do have the youngsters that will be pushing for more minutes before too long.  And, of course, there's the fact that they still need to clear salary.  A strong season from Brodie could push him towards the $5.5MM-$6MM range while one from Hamonic would push him closer to $5MM as his offensive upside (or relative lack thereof) limits his ceiling in terms of a big contract.
Talbot signed a one-year deal with the hopes that he can take over the starting job (or least get the higher split of a platoon workload) in an effort of restoring some value around the league.  He spent most of last season behind a poor defense in Edmonton and now comes to a strong unit in Calgary so there's a good chance his numbers will rebound accordingly.  However, if he doesn't do enough to show that he can be a legitimate starter, his next deal probably won't be much higher than this one.
Two Years Remaining
F Sam Bennett ($2.55MM, UFA)
G David Rittich ($2.75MM, UFA)
F Derek Ryan ($3.125MM, UFA)
Bennett continues to be a perplexing player.  He has shown flashes of being an impact player over the years but has also had stretches of play where he didn't move the needle much.  The end result is three nearly identical underwhelming seasons which has resulted in another bridge deal.  More repeat performances will only add to trade speculation but if he puts it together, a much better contract could be on the horizon.  Ryan managed to equal his output from his career year with Carolina despite averaging two minutes less of ice time per night.  He's an effective third liner but it's hard to see him getting much more than he is now when his contract is up.
Rittich surprised many last season by staking claim to the number one spot for several stretches although he struggled a bit in the second half.  Given his limited track record, Calgary opted for this short-term deal.  If Rittich can lock down the number one job for these two seasons, he could double his AAV on the open market but if he stays in a platoon role, he will largely be capped like Talbot in terms of what his earning upside may be.
Three Years Remaining
F Johnny Gaudreau ($6.75MM, UFA)
F Mark Giordano ($6.75MM, UFA)
Gaudreau bypassed the bridge contract and opted to sign what was at the time considered to be a pretty big post-ELC deal just before the 2016 regular season started.  With only two full years of NHL experience under his belt, the signing was considered to be a little bit of a risk even though he was coming off a near point-per-game season.  Now, as RFA contracts have exploded, it's turned into a pretty good bargain after Gaudreau took his offensive game to another level last season.  He should be pushing for $10MM or more three years from now.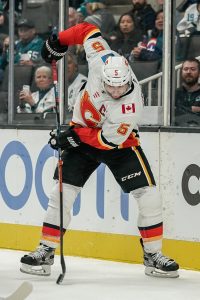 Giordano was a late bloomer but has certainly blossomed into a legitimate number one defenseman and was a worthy recipient of the Norris Trophy.  Certainly, his deal has to be considered as well below market value after seeing what some of his peers have signed for in recent years.  His contract was once held as the standard in terms of how much their top-paid player could make but that's highly likely to change in the near future.  Having said all that, it's unlikely that Giordano will get much more than this on his next deal, if there is a next deal.  He'll be turning 39 in October of 2022 when his next contract would kick in and while he's the type of player that could still be an impact defender at that time, it's hard to imagine him still being able to log 24+ minutes a night.
Four Or More Years Remaining
F Mikael Backlund ($5.35MM through 2023-24)
D Noah Hanifin ($4.95MM through 2023-24)
F Elias Lindholm ($4.85MM through 2023-24)
F Milan Lucic ($5.25MM through 2022-23)*
F Sean Monahan ($6.375MM through 2022-23)
* – Edmonton is retaining the other 12.5% of Lucic's contract
Monahan has emerged as a legitimate number one center and is at a price tag that second liners are starting to get.  He might not be able to hit double-digits in terms of per-season salary but he could come close four years from now.  Lindholm, the other player alongside Monahan and Gaudreau, had a career year and is making that deal appear to be very team-friendly.  Like Monahan, he'll still be in his 20's when he reaches the open market and at this point, he'll be seeking a significant raise.  Backlund has settled in nicely behind Monahan on the depth chart and is a dependable two-way center.  He's not a bargain at that price tag but he certainly isn't overpaid either.  He'll be 35 when his deal is up so this could wind up being his highest-priced contract.
Then there's Lucic.  His signing with Edmonton can only be classified as disastrous.  Calgary is clearly banking that a change of scenery can get him going but even at that, it's still going to be a drag on their books for the next four years.  The structure of his deal makes a buyout rather prohibitive so he's probably going to play the deal out.
While Hanifin may not become the true number one defender that his draft status might suggest, he continued to show improvement last season and should easily slot in as a number two or three for their long-term future.  Getting someone in that role for that long is certainly a bargain.
Buyouts
F Troy Brouwer ($1.5MM per year through 2021-22)
D Michael Stone ($1.167MM per year through 2020-21)
Retained Salary Transactions
None
Still To Sign
F Andrew Mangiapane
F Matthew Tkachuk
Tkachuk is one of the more prominent players in this RFA class and as he has established himself as a high-quality power forward, he's in line for one of the bigger deals in the weeks to come.  In doing so, he will almost assuredly exceed Giordano and Gaudreau's $6.75MM threshold and will quite likely put the Flames back over the Upper Limit even with Stone's recent buyout.  As for Mangiapane, he impressed over his part season but he doesn't have much in the way of leverage.  In order to trim as little from the roster as possible, Calgary will likely want to pursue a one-year pact at or around his $766.5K qualifying offer.
Best Value: Gaudreau
Worst Value: Lucic
Looking Ahead
In the short term, there's clearly some work that still needs to be done.  They will need to free up some extra payroll room for their remaining RFAs and will almost assuredly be tiptoeing around the Upper Limit in 2019-20.  They have a decent chunk of money coming off the books which will give them a bit of flexibility next summer although they'll have a few important spots that they'll need to fill with that money.  While things may not be quite as tight after this season, don't expect the Flames to have plenty of salary cap space for quite a while.
Photo courtesy of USA Today Sports Images.