Navigating the salary cap is one of the more important tasks for any GM. Teams that can avert total cap chaos by walking the tightrope of inking players to deals that match their value (or compensate for future value without breaking the bank) remain successful. Those that don't see struggles and front office changes.
PHR will look at every NHL team and give a thorough look at their cap situation heading into the 2019-20 season. This will focus more on those players who are integral parts of the roster versus those who may find themselves shuttling between the AHL and NHL. All cap figures are courtesy of CapFriendly.
Arizona Coyotes
Current Cap Hit: $81,321,901 (under the $81.5MM Upper Limit)
Entry-Level Contracts
F Christian Fischer (one year, $822K)
F Barrett Hayton (three years, $894K)
F Clayton Keller (one year, $886K)
Potential Bonuses
Fischer: $212.5K
Hayton: $1.35MM
Keller: $850K
Keller took a considerable step back in his second NHL season, dropping from 67 points to 45.  A comparable performance could have him in line for a bridge contract a year from now but if he shows some chemistry with newly-acquired winger Phil Kessel, he could have a big boost in output next season to make him one of the top restricted free agents of the 2020 class.  How they get paid will largely be determined by what happens over the coming weeks to the current RFA class but right now, his next deal could range from anywhere from around $4MM on a short-term pact to twice that much on a contract that buys out some UFA eligibility, something the Coyotes have preferred based on recent history.
Fischer is also coming off of a rough season, recording just 18 points in 71 games, well off his 33 from the year before.  He's more of a secondary piece on their roster so a short-term second contract is likely on the horizon.  Hayton briefly made the Coyotes last season (spending one day with them before being returned to junior) and as their consensus top prospect, he'll likely get a long look in training camp.  Even if he does make the team though, it's too early to forecast what his post-ELC contract will look like.
One Year Remaining, Non-Entry-Level
F Vinnie Hinostroza ($1.5MM, RFA)
G Darcy Kuemper ($1.85MM, UFA)
D Ilya Lyubushkin ($874K, RFA)
F Brad Richardson ($1.25MM, UFA)
F Carl Soderberg ($4.75MM, UFA)
Hinostroza's first season in Arizona was a successful one as he became a consistent top-six forward.  The Coyotes hoped that he'd be able to become a part of their young core when they got him and he's trending in that direction.  He's technically on his bridge deal but could still sign another short-term pact and still have RFA rights and given their longer-term cap outlook, that's a likely outcome.  Soderberg was brought in to provide some extra depth down the middle and is coming off a resurgent season with Colorado that saw him collect 49 points.  A repeat performance could have him pushing for a similar price tag a year from now but if he reverts back to his play from the previous two years, he'll be looking at a notable pay cut.  Richardson tied for the team lead in goals last season which made him one of the better bargains on the team.  It's unrealistic to expect him to produce like that again but he still should be looking at a raise on his next deal.
Lyubushkin accepted his qualifying offer after an up-and-down rookie campaign.  He's clearly no higher than seventh on the depth chart and if his price tag goes much higher, they'll likely move on from him.  Kuemper wound up having a stellar season, one that saw him thrive with a number one workload on the way to posting a career year.  He won't get as much playing time in 2019-20 but there will be teams remembering his performance when he hits the open market in July where he'll land a decent raise.
Two Years Remaining
D Jason Demers ($3.9375MM, UFA)*
F Conor Garland ($775K, RFA)
D Alex Goligoski ($5.475MM, UFA)
F Michael Grabner ($3.35MM, UFA)
D Niklas Hjalmarsson ($5MM, UFA)
F Marian Hossa ($5.275MM, UFA)
D Jordan Oesterle ($1.4MM, UFA)
G Antti Raanta ($4.25MM, UFA)
F Derek Stepan ($6.5MM, UFA)
* – Florida is retaining the other 12.5% of Demers' contract
This is where the bulk of Arizona's commitments are.  Let's get Hossa out of the way first.  He won't play again and will go on LTIR if the Coyotes need to free up extra room.  However, the risk in doing so is that it would set them up for the possibility of having to carry over any bonus overage penalties into 2020-21.
Stepan had a very disappointing season and only managed a career-low 35 points.  They were hoping he could be their number one center but it hasn't happened.  At this point, it's hard to envision him landing $6.5MM on his next contract.  Grabner was reasonably productive when he was healthy last year but he missed half of the season due to injury.  His speed is a big weapon now and his ability to maintain that will ultimately determine if he gets another deal in this price range down the road or if he'll be looking at a cut as well.  Garland has his flaws but has shown an ability to score in his limited NHL experience.  If he produces like he did last season (a 23-goal pace over a full season), this could be a nice bargain for the Coyotes.
Goligoski was yet another player whose production dipped considerably as his output was the lowest since the lockout-shortened 2012-13 campaign.  He has settled into more of a second pairing role and considering he'll be 36 when his next contract kicks in, he'll be hard-pressed to get a raise two years from now.  Hjalmarsson doesn't put up many points but the Coyotes liked his defensive presence enough to give him this deal a year ago.  Even so, he'll be 34 two years from now and as the league trends towards more skill on the back end, that doesn't bode well for his chances.  Demers battled injuries last season but is a serviceable fourth or fifth defender when healthy.  His $4.5MM price tag (between the two teams) isn't enough to justify that.  Oesterle took advantage of being a regular for the first time and posted a career year.  Maintaining that over the next couple of years would give him a much better track record for teams as he enters the open market for the first time.
Raanta, when healthy, has played well for the most part in recent years (despite some struggles last season).  The Coyotes clearly believe he can be a starter but he has still played more than 30 games in a single season just once.  If he wants a chance to beat (or even equal) his current deal two years from now, he'll need to stay healthy and help lead this team to the postseason.
Three Years Remaining
F Lawson Crouse ($1.533MM, RFA)
F Phil Kessel ($6.8MM, UFA)*
* – Toronto is paying the other 15% of Kessel's contract
Kessel was brought in this summer to give Arizona a legitimate top-line forward with a track record of production.  He immediately becomes the best scoring threat they've had in quite some time.  However, his all-around game has long been questioned and he'll be turning 35 at the start of the 2022-23 season which will be his next contract.  Accordingly, he probably will struggle to land an $8MM deal in free agency.  Crouse held his own in a bottom six role last season but has developed slowly thus far.  The three-year bridge deal gives the team some time to see if he can progress into a legitimate top-six threat.
Four Or More Years Remaining
D Jakob Chychrun ($4.6MM through 2024-25)
F Christian Dvorak ($4.45MM through 2024-25)
D Oliver Ekman-Larsson ($8.25MM through 2026-27)
F Nick Schmaltz ($5.85MM through 2025-26)
Schmaltz was the return in the somewhat-questioned trade with Chicago that saw Dylan Strome and Brendan Perlini go to Chicago.  Clearly, GM John Chayka has plenty of confidence in him considering that extension was signed only a few months after the trade.  He was productive during his limited time with Arizona (injuries limited him to 17 games) while he played at a 50-point pace overall.  There is some risk to this deal given the lack of track record but there is some potential for reward as well.  Dvorak's contract was a big surprise considering he was coming off a pair of seasons with 15 goals.  Clearly, they're banking on him taking a step forward although injuries limited him to just 20 games last season.  Right now though, that deal looks to be on the expensive side.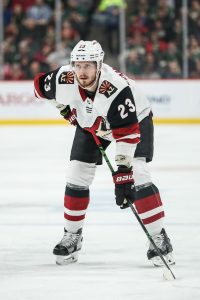 Last offseason, Ekman-Larsson was looking like he'd be one of the top defenders available in free agency but instead, he opted to sign the extension.  For the next few years, the high price tag shouldn't be an issue as he's a legitimate number one defender but as he ages, it could become a bit of an overpayment (although that can be said about a lot of long-term extensions given to pending UFAs).  Chychrun has had trouble staying healthy in his career as he has missed at least 14 games in each of his first three seasons.  That creates some risk with the deal but when healthy, he's a legitimate top-four defender that's locked in at a pretty good rate.
Buyouts
F Mike Ribeiro ($1.944MM, final year)
Retained Salary Transactions
None
Still To Sign
None
Best Value: Kuemper
Worst Value: Dvorak
Looking Ahead
Seeing Arizona potentially being in cap trouble is something we're not used to seeing.  Moving Hossa to LTIR will help but if bonuses are hit, that will hurt them for next season at a time where they're going to need a lot of room for a new deal for Keller (and potentially Kuemper if they'd like to keep their goalie tandem intact).
The good news is that the crunch is going to be relatively short.  Two summers from now, a lot of big-ticket contracts will be off the books and not a lot of those players will be in line for raises.  That will give Chayka plenty of flexibility to work with and accordingly, expect a lot of turnover to come at that time.  Some short-term cap pain is on the horizon but they'll be in good shape before too long.
Photo courtesy of USA Today Sports Images.