The Vancouver Canucks are one of the many teams waiting to resolve a contract situation with one of their best players, in their case restricted free agent Brock Boeser. The 22-year old forward has scored 59 goals through his first 140 NHL games and possesses one of the most lethal shots in the league. Seemingly a perfect fit alongside phenom center Elias Pettersson, the Canucks would surely like to lock Boeser up to a reasonable long-term deal. Ben Kuzma of Postmedia was on TSN radio yesterday and reported that Boeser's camp is looking for a $7MM average annual value on his next deal and suggests Timo Meier's four-year deal as a reasonable comparison.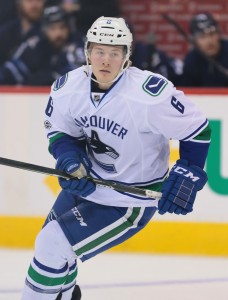 Meier signed that four-year $24MM contract with the San Jose Sharks at the beginning of July, but it was designed in a very interesting way. At the conclusion of the contract Meier will still be a restricted free agent for one more year, but because he earns $10MM in salary during the 2022-23 campaign that is what the Sharks would have to extend him as a qualifying offer in order to retain his rights. Obviously they could work out another extension, but Meier has virtually turned the deal into a five-year $34MM contract if he wants it to be. That gets the average annual value a lot closer to that $7MM mark that Kuzma reports Boeser is after.
It's not clear if the Canucks would be willing (or able) to structure a deal like that, but obviously some sort of compromise will have to be made. Seemingly the entire RFA class has decided that they want to get paid handsomely this summer on their second contracts, and many believe the market is still being held up by Mitch Marner and the Toronto Maple Leafs. Marner isn't a very good comparable for Boeser given the difference in their NHL experience (Marner has played in 101 more regular season games than Boeser and is a year closer to UFA status), but he still may set the ceiling on the entire market whenever he actually signs. For what it's worth, Toronto GM Kyle Dubas spoke with TSN at the World Junior Summer Showcase and explained that there isn't a ton of progress in any of the RFA situations around the league.
A $7MM cap hit would put Boeser into the top-35 in terms of highest paid forwards in the league, tying him with names like Anders Lee, James van Riemsdyk and Evander Kane who were all paid for their UFA seasons relatively recently. William Nylander's six-year $45MM deal comes in just shy of the $7MM mark and was signed as an RFA, though it also buys out a year of unrestricted status.
It is important to note that the Canucks don't actually have a ton of cap space to throw around. CapFriendly is currently projecting them to have just over $5MM, though that is based on a 24-man roster that will obviously be downsized before the start of the season. With Nikolay Goldobin still to go however, there will likely have to be a few more moves to fit everyone in if Boeser does get his $7MM deal. While Boeser is obviously worth it, the Canucks have a lot of money tied up in bottom-six forwards (even through 2020-21 and beyond) and may have to find a way to shed some of them before things really get going next month.
Photo courtesy of USA Today Sports Images