Just a year ago, the Dallas Stars were praising the signing of Valeri Nichushkin, their first-round pick back in 2013. The young, promising power forward showed quite a bit of promise before opting to return to the KHL. However, the team pressed and pressed before finally getting Nichushkin to agree to come back last year on a two-year, $5.9MM deal. The team hoped the then 23-year-old would immediately jump into their top-six and make an instant impact.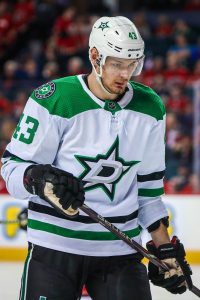 Instead it all backfired. Nichushkin struggled immensely, never scoring a goal all season and saw his playing time drop significantly. He missed time early in the year due to a groin injury and never found his place in the team's lineup. He was scratched 16 times during the regular season and appeared in just one out of 12 playoff games for the Stars where he only played 7:57 of TOI. After just that one year, the team decided to cut him loose, buying out the team's final season and letting a talented 24-year-old go.
The question is can Nichushkin bounce back. The 24-year-old is still young and has both the size and talent to put it all together. You would think there would be teams who might be willing to take a chance on him. The positives were that his defense last year was much improved from his first stint in Dallas as a teenager. Nichushkin killed penalties and even got some time on the team's shutdown line with Radek Faksa. Unfortunately, his inability to put the puck in the net hurt his value.
Potential Suitors
Teams looking for young talent and might have a need for depth could find themselves interested. A team like Edmonton, who is in need of talented wingers, who might be able to have a breakout season, might be an interesting match. However, after trying that a season ago with Tobias Rieder, who also tallied no goals last season, the team may not want to deal with the same type of issue.
The New York Islanders might be another team that could use some depth on the bottom-six and with his defense, could be a good fit after the team lost Valtteri Filpula to Detroit this offseason. Especially with the Islanders having so much youth close, but perhaps not completely ready for the NHL squad, Nichushkin might be the perfect fill-in for one season.
There is also a legitimate chance that he could head overseas, but so far he has not chosen to sign a deal over there and with many leagues already getting started, he may want to find a chance in North America first. However, in the end, it will all come down to what team is willing to take a chance on the young forward.
Projected Contract
Unfortunately for the young Russian, Nichushkin will likely have to look for a PTO and try to prove that his inability to score was an aberration. There were many that thought that he might be able to bounce back, but considering how much Dallas was paying him and the fact they had to free up cap space to bring in Joe Pavelski, the team wasn't going to put up with that salary. However, at a minimum-salaried deal, many teams might be ready to take a flier on him.
Photo courtesy of USA Today Sports Images.