It doesn't seem that long ago that Marc Methot was considered to be a high-end shutdown defenseman. Actually, it was just two years ago when the veteran was with the Ottawa Senators, that he averaged just short of 19 minutes per game for eight straight seasons. However, after signing a four-year, $19.6MM extension to remain in Ottawa in 2015, the Senators choose to expose his contract in the Vegas expansion draft and the defense-greedy Golden Knights opted to grab him, immediately flipping him to Dallas for a prospect and a 2020 second-round pick.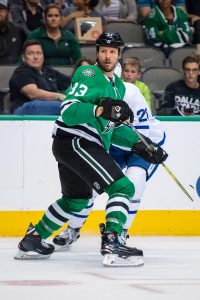 Unfortunately, the Stars didn't capitalize on Methot's impressive defensive play as he struggled with injuries in his two years in Dallas. In those two years, he has appeared in just 45 games and only nine of them came in the 2018-19 season. In fact, the knee injury that sidelined Methot for most of the season last year, could keep him out even longer than people had expected.
Having hit free agency this year at age 34, TSN reported in July that Methot might not be ready for the 2019-20 season at all due to the knee surgery that he underwent in January. However, despite the injuries, he still was a valuable commodity when he was on the ice with his defensive play and ability to play physically and provide key hits during the game.
Potential Suitors
The most obvious suitor could be retirement depending on how Methot's knee responds from his surgery. TSN's Shawn Simpson reported last month that Methot has started skating, which could increase his suitors if he can prove he is ready to return to the ice. If his knee can hold up, he could provide key depth on any team's defense as a shutdown third-pairing defenseman, which plenty of teams would need.
A reunion in either Ottawa or Columbus might make sense, but Ottawa has already added a number of veterans to its defensive core, including Ron Hainsey and with a number of young blueliners waiting to get playing time, he might not be a good fit with his hometown. However, Methot could find a way there. In Columbus, the team is likely set on defense, but one injury could change that and a coach like John Tortorella would appreciate a defensive-minded veteran.
The New Jersey Devils are a team that could be interested in Methot as he might provide a good fit at the bottom of their lineup. There are plenty of other teams that might still need some depth on their defense such as the Anaheim Ducks, Winnipeg Jets and Washington Capitals. However, much of who might be interested in Methot, may be determined by team injuries and their needs.
Projected Contract
Methot's situation might require him to wait to sign a contract until he can prove that he's healthy and can really contribute to an NHL team, meaning he might have to wait until well into the 2019-20 season before signing a deal. Once he can prove he's healthy, assuming he can and doesn't opt to retire instead, Methot will likely have to settle for a minimum-salaried deal and prove his value to the team.
Photo courtesy of USA Today Sports Images.