For years, most people have associated defenseman Dion Phaneuf with the seven-year, $49MM contract he signed with the Toronto Maple Leafs back in 2013 when he was considered a top-pair defender. However, that contract didn't even kick in until the 2014-15 season and suddenly by that point, Toronto was keen to move on from him, eventually moving his contract to Ottawa after just a year and a half. He was then sent to Los Angeles a few years later. Finally after struggling immensely last season, the Kings finally ended it this summer, buying out the now-34-year-old blueliner and putting him on the open market.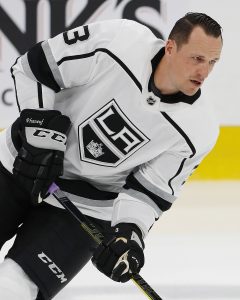 Looking at his numbers from a season ago, it's no wonder why the Kings chose to move on from him. He played 67 games last season, but was made a healthy scratch for the first time in his career and saw his ATOI go from averaging more than 20 minutes a game down to 15:00, a career-low. Offensively, he potted just one goal and six points, while struggling with a minus-21 rating.
However, despite those issues, the blueliner has said he has more to give and would be willing to take on a mentor role with teams that are rebuilding, hoping that teams might be interested in bringing him back to guide their younger players. While retirement is also an option for the veteran, he's made it clear he wants another opportunity.
Potential Suitors
One team loaded with young defensemen is the Vancouver Canucks. The team has a number of young players, including Quinn Hughes, Troy Stecher and Olli Juolevi, but the team already added a pair of veterans in Tyler Myers and Jordie Benn in free agency, while re-signing Alexander Edler as well. Is there still a need for another veteran now in Vancouver?
Another team that was highly considered early on in free agency was the Dallas Stars, who might want a player like Phaneuf filling in a third-pairing role as the team is loaded with young defensive talent. However, the team opted instead for grabbing fellow buyout victim Andrej Sekera. It now would seem like an unlikely destination for a more crowded blueline.
The Winnipeg Jets, short on defenders after losing Myers, Jacob Trouba and Ben Chiarot on defense, could bring in someone like Phaneuf to fill in the holes until some of their younger defenseman are ready for a full-time NHL role. However, Phaneuf may also just wait until training camp approaches and keep an eye on teams that suffer some injuries.
Projected Contract
Phaneuf is still being paid by Los Angeles thanks to the buyout, so money is likely not that important to the 34-year-old. A minimum salaried deal is a likely outcome and likely the only option at this point in his career.
Photo courtesy of USA Today Sports Images.