With the date of an arbitration hearing fast approaching the New Jersey Devils and Will Butcher have settled on a new contract. Butcher has signed a three-year deal with an average annual value of $3.73MM, making his scheduled hearing on Friday no longer necessary. The contract buys out the final three restricted free agent seasons for Butcher, leaving him an unrestricted free agent in the summer of 2022. The full salary breakdown is as follows:
2019-20: $3.5MM
2020-21: $3.6MM
2021-22: $4.1MM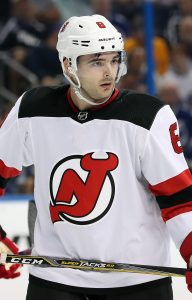 Butcher, 24, has had an outstanding start to his professional career since signing with the Devils in 2017. After failing to reach an agreement with the Colorado Avalanche following his four-year career at the University of Denver, Butcher instead ended up in New Jersey where there was a more obvious need for a puck-moving defenseman and powerplay specialist. The relatively undersized Butcher ended up scoring 44 points in his rookie season but found himself in an outstanding Calder Trophy class and finished ninth—Mathew Barzal would take the award nearly unanimously after his 85-point rookie performance.
Butcher's offensive numbers dropped in year two, but his role on the Devils increased and he was given more responsibility at even-strength. Playing a little over 19 minutes a night, he continued to drive play and possession with his skating ability. Always looking for a way to get the puck out of his zone with control, the Devils generate a ton of scoring opportunities when Butcher is on the ice. There are still some questions to be answered in the defensive end, but the team obviously believes the trade off is still one that results in their favor.
For under $4MM, the Devils have locked up one of the league's most efficient offensive defensemen in his prime. Though they likely would have rather bought out a few UFA seasons, this contract gives them a chance to sink money into other parts of the roster. Butcher for instance has registered the same amount of points over the last two years as Jacob Trouba, who just received a $56MM contract from the New York Rangers. While comparing the two players directly may be a little unfair, there's good reason to believe that Butcher's deal can provide quite a bit more excess value over the next three years.
Part of the equation there however is how he will be used moving forward. The Devils just acquired another potential powerplay quarterback in P.K. Subban, who may steal away some time prime minutes with the man advantage. That kind of a player may also lift up Butcher even further at even-strength however, if the team decides to pair them together at any point. In all, the Devils blue line is looking quite strong with other names like Sami Vatanen and Damon Severson logging big minutes.
Photo courtesy of USA Today Sports Images