With an arbitration hearing quickly approaching, the Rangers announced (Twitter link) that they have re-signed winger Pavel Buchnevich.  Larry Brooks of the New York Post reports (via Twitter) that it's a two-year deal with a cap hit of $3.25MM per season.
The 24-year-old set a new career-high in goals last season with 21 despite missing considerable time due to injuries, including a thumb issue that caused him to miss 13 contests.  That certainly would have helped his cause had his case gone to arbitration on Monday as originally scheduled.  He also has been relatively productive as a secondary scorer the last couple of seasons, posting 43 points in 2017-18 and 38 last season.
With the team adding Artemi Panarin in free agency while adding Kaapo Kakko with the second pick in last month's draft, the competition for a top-six spot on the wing is going to be tough in training camp.  It wouldn't be surprising to see Buchnevich drop down a line which could make it difficult to surpass his numbers over the past two years.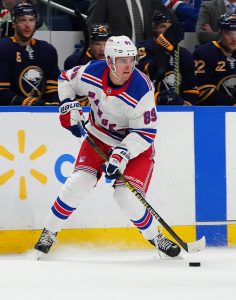 While getting this done was certainly critical for GM Jeff Gorton, it now brings their salary cap situation even more to the forefront.  The team now has upwards of $85MM in commitments for next season (and still has to re-sign defenseman Anthony DeAngelo and winger Brendan Lemieux).  In other words, they're well over the $81.5MM Upper Limit.
As this was New York's final arbitration case, the clock is now set for their second buyout window.  It will open up on Monday afternoon and last 48 hours.  Defensemen Brendan Smith and Kevin Shattenkirk have been speculative buyout candidates going back to the initial window in June but at the time, Gorton opted to not pull the trigger on a buyout at that time.  Since then, the team signed Panarin to a deal that makes him the highest-paid winger (in terms of AAV) in league history while inking defenseman Jacob Trouba to a deal worth $8MM per season.  Their financial situation has certainly changed in a hurry.
There is some risk in buying one of those players out though.  While they'd free up some space for next season, the front-loaded nature of their deals means that their 2020-21 cap hit would still be substantial.
Accordingly, they may be better off looking to trade their way out of trouble.  Wingers Vladislav Namestnikov and Chris Kreider, players that are both a year away from UFA eligibility, have been in trade speculation lately as has Buchnevich himself.  This contract, one that will see him remain a restricted free agent two years from now, certainly won't hurt his trade value if Gorton looks to go that route.
For the past few weeks, the Rangers were believed to have some time to settle their cap issues.  With their final opportunity to use a buyout to free up some room expiring on Wednesday, the clock is ticking quickly.  They'll be a team to watch for over the coming days.
Photo courtesy of USA Today Sports Images.