Monday: TSN's Darren Dreger has the breakdown of Duchene's contract, which includes $28MM in signing bonuses. Colleague Pierre LeBrun adds that the deal also includes a modified No-Trade Clause in the final three years that allows Duchene to select seven teams he cannot be traded to.
Sunday: Matt Duchene was the top center on the free agent market and it appears he's heading back to the Western Conference.  Sportsnet's Chris Johnston reports (Twitter link) that Duchene is set to sign with the Predators on a contract with an $8MM AAV.  Pierre LeBrun of TSN and The Athletic adds (via Twitter) that it's expected to be a seven-year deal, the maximum term for a free agent not re-signing with his own team.  That price tag will tie fellow pivot Ryan Johansen as the top cap hit on the team.
Duchene matched his career high offensively in 2018-19 with 70 points (31-39-70) in 73 games.  He started off the year in Ottawa but when he wasn't able to come to terms on an extension prior to the trade deadline, he was flipped to the Blue Jackets as Columbus went all in.  He wasn't as productive with them during the regular season (12 points in 23 contests) but he picked up his play in the postseason, picking up five goals and five assists in their ten games, ranking second on the team in playoff scoring.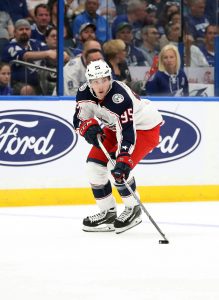 While Columbus certainly would have wanted to keep Duchene, this news provides them with a small silver lining.  As part of the trade with the Senators, they would have had to part with their 2020 first-round pick if he re-signed with them.  As that's not happening, that pick won't change hands which closes the book on that swap.
In Duchene, Nashville is landing someone who they feel can solidify their depth down the middle.  They tried Kyle Turris as their second line pivot (interestingly enough, he was part of the trade that sent Duchene to Ottawa) but that hasn't worked out.  Duchene's offensive track record suggests that this move has a better chance of working.
The Preds signalled their intentions of making a splash in free agency back at the draft when they dealt defenseman P.K. Subban to New Jersey for a package that largely consisted of future assets to free up just over $7.5MM in cap room (after taking Steven Santini's salary into consideration).  It turns out they'll use all of that and then some to land Duchene but in the process, they've landed one of the top free agents on the market.  The 28-year-old ranked third in our Top 50 UFA Rankings.
Photo courtesy of USA Today Sports Images.