After extending Joel Armia earlier today, the Montreal Canadiens have announced they've come to terms with Artturi Lehkonen on a new two-year contract. The deal will carry an average annual value of $2.4MM but unlike Armia, will leave Lehkonen as a restricted free agent in 2021.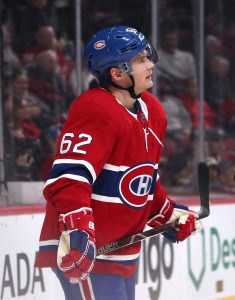 Lehkonen, 24 (despite what the press release says), still hasn't been able to quite replicate the 18 goals he recorded as a rookie in 2016-17, but was still a valuable part of the Canadiens' attack last season. Setting a career-high with 31 points in 82 games, Lehkonen also increased his physical play and became a key part of the penalty kill. At his best when lined up against the opponent's top scorers, Lehkonen can be an unrelenting forechecking presence when he wants to be. While he may still face some of the inconsistency issues that many young forwards do, there's also still real upside if given a more offensive role down the line.
That offensive role is likely what he has his sights set on as he signs for just two seasons, hoping to make even more on his next deal after a breakout year. The question is whether he'll get that opportunity with other forwards like Jonathan Drouin and Tomas Tatar eating up the offensive zone time and powerplay chances. Still, for the Canadiens his value is obvious as a middle-six player capable of lining up against anyone on the other team and contributing some secondary scoring. A $2.4MM cap hit is more than reasonable for the team using him in this role, especially given the goal-scoring upside he's shown in the past.
Montreal now has just Charles Hudon and Michael McCarron left to sign as restricted free agents, and close to $6MM to do so (based on a 23-man roster). That leaves them more than enough wiggle room to continue searching the free agent market for an upgrade or take on salary in a trade.
Photo courtesy of USA Today Sports Images